10 Paleo-Friendly Appetizers for Thanksgiving
Whether you are in charge of setting up the table this Thanksgiving or not, you can help by coming up with new and fresh recipes for the family. Why stop there? This year, try something new such as the Paleo diet. From the word "paleo" which means ancient, this diet was designed to mimic the eating habits of earlier men. This doesn't mean raw food! Move forward a bit to when individuals learned how to cook their food without consuming processed ones.
The idea of this diet is to only consume whole foods to steer clear from any lifestyle-related diseases. This Thanksgiving, we're going to avoid foods such as processed meats, dairy products, and artificial sweeteners. Do not think that you are being limited by these criteria for a paleo-friendly meal. There is absolutely more to it than that. Get to learn ideas of what to serve for a paleo-themed meal this Thanksgiving, starting out with the appetizers!
1. Shrimp Salad Cucumber Bites
Net Carbs: 0.2g Proteins: 3g Fats: 0.9g
     
INGREDIENTS
1 pound cooked shrimp
2 1/2 tbsp compliant mayo
1/2 tsp Old Bay Seasoning
1/2 small red onion, chopped
1/4 cup chopped celery
2 large cucumbers (30 slices)
Salt and Pepper to Taste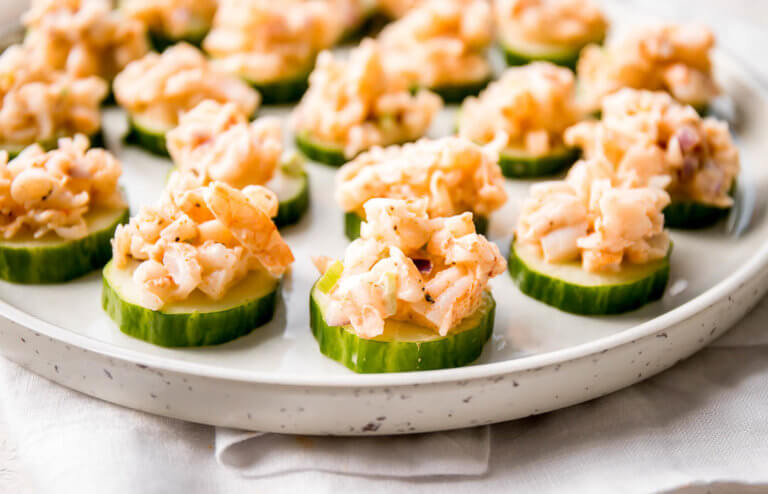 Eating paleo does not have to be complicated. It's the epitome of the "back to the basics" phrase when it comes to food. This recipe is as easy to make as it gets and will surely brighten up everyone's appetite for a bigger main course. No need to overthink how to make your appetizers exciting. This recipe can be used as plain salad, a dip, or a partner for breads. Although you can make this recipe ahead, it's always a good idea to serve slightly chilled yet fresh salad on the day.
Because this appetizer is mostly fresh, aside from the cooked shrimps, you have to be very careful in preparing it especially if you intend to keep it longer in the refrigerator. You are not the only one who's excited to chomp on a bright and fresh salad – microorganisms do too! Make sure you prepare your ingredients with a very clean kitchen counter with absolutely no cross-contamination. At max, your salad can stay at least 3 to 5 days in the refrigerator. That is if there is any left!
We know healthylittlepeach.com did not mention this, but a dash of lemon juice would surely brighten up this appetizer even more and give you a fresher meal. Head on to healthylittlepeach.com for more information on this recipe.
2. Paleo Spinach and Artichoke Cups
Net Carbs: 5g Proteins: 2g Fats: 9g

INGREDIENTS
For the crust
2 cups blanched almond flour
1/2 cup tapioca starch
6 tbsp. coconut oil
2 tbsp. water
2 tsp garlic powder
1 1/2 tsp sea salt
1/4 tsp baking soda

For the spinach and artichoke filling
1/2 cup raw cashews soaked for at least 4 hours
2 garlic cloves
1/4 cup coconut milk
3 tbsp. lemon juice
2 tsp nutritional yeast
1/2 tsp onion powder
1/2 tsp sea salt
1/8 tsp ground black pepper
Pinch of cayenne pepper optional
1/4 14oz can of artichoke hearts drained and chopped (about 1/2 cup)
3 oz. frozen spinach thawed (about 1 cup)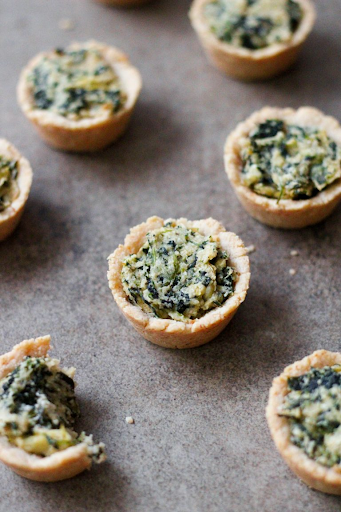 So, you read about cheese being out of the circulation for a paleo diet. That doesn't mean it's the end for your creamy recipes. Paleo diets only restrict consuming processed foods. In this recipe, you will get to learn the best way to still get that creamy consistency and flavors you don't have to miss from cheese products. These Paleo Spinach and Artichoke cups are not just paleo-friendly. They are also keto-friendly, gluten-free, and vegan! It's like hitting 4 birds with one cup! Learn how to achieve the flaky textured crusts without using a lot of fat and wheat flour by just using almond flour and tapioca starch.
Currently running on 5 stars from reviews, this recipe has been a hit for those who have tried it! These perfectly portioned veggie cups are made more nutritious by blending in nutritional yeast for the tangy flavor to mimic cheese flavors. This ingredient is the perfect addition to coconut milk and nuts to create the same effect from cheeses. In fact, several non-dairy cheese manufacturers have been doing this for a healthier substitute. You can even adjust the sharpness and profile of your products depending on the type of yeast you get and the amount you use. In addition, yeasts are also great sources of essential amino acids, vitamins, and minerals. 
Let whatgreatgrandmaate.com teach you how to get the crust to set and achieve a perfectly balanced filling.
3. Easy Paleo Salmon Cakes (Freezer friendly)
Net Carbs: 5g Proteins: 6g Fats: 3g

INGREDIENTS
5 oz. salmon (canned or finely diced cooked salmon, skin off . See notes for specifics)
1/2 tsp garlic (minced)
1/3 cup sweet potato, squash, or pumpkin (pureed or mashed)
3 to 4 tbsp. coconut flour (see notes)
1/4 tsp regular or smoked paprika
1/4 tsp fine kosher or sea salt
1/4 tsp black pepper
1/4 tsp curry powder (optional)
1 rosemary sprig or 1 tsp dried herb of choice
2 eggs
1 tbsp. oil or butter for the pan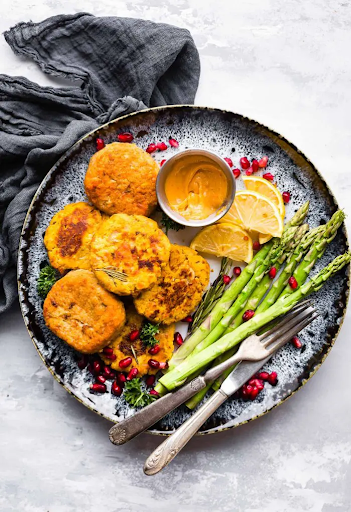 If there is one main protein that is mostly illustrated to be enjoyed in paleolithic times, it's salmon. This recipe is a genius idea to keep your salmon from going dry when stored in the freezer. Because the protein of fishes do not contain as much fat as pork and beef do, they can easily get denatured (somewhat cooked) in excessively low temperatures. This makes the fish meat to have less water holding capacity and cause it to be very dry when cooked. Luckily, this recipe offers you a great way to get these salmon meat going for a long time, and they're incredibly flavorful too!
Lindsay of corrercrunch.com talks about how these cakes became a hit at one of her holiday gatherings. Who's stopping you from getting the same commendation from your family? If you are not a fan of salmon, you can always adjust the ratio of vegetables to salmon and increase the amount of herbs you put. This recipe is actually an infusion of several cuisines from the flavors it uses. One thing though, if you want to stick to being 100% paleo, omit using the butter as this is not 100% paleo-friendly and opt to using coconut oil. 
Learn more techniques and some nutritional notes from cottercrunch.com.
4. Paleo Chicken Yakitori Skewers
Net Carbs: 1g Proteins: 11g Fats: 6g

INGREDIENTS
Paleo Teriyaki Sauce
1.5 lb chicken thighs, boneless, skinless
½ tsp coarse sea salt, plus more during cooking
⅛ tsp white or black pepper, optional, plus more during cooking
2 bundles scallions, use white & pale green parts only
Avocado oil

For this Thanksgiving, don't be afraid to bring in different cuisines from around the world to the table. You will not even have to sweat it with this one. Paleo diet is about preparing and eating the food in the simplest way possible. With this recipe, you get to do that and get a great tasting meal. Yakitori is a Japanese cuisine which features skewered chicken and grilled over charcoal. Iheartumami.com further explains how you can also use other parts of the chicken such as liver, gizzard, wings, meatballs, or even mix them up for more texture. This recipe is based on the Japanese dish Negima which uses Japanese leeks, only this recipe suggests using scallions as an alternative.
Combine the smoky flavors from grilling the meat with the hearty and flavorful taste of their Paleo Teriyaki Sauce. If you don't have the time to light up charcoal and get all smokey in your yard, a stovetop skillet works fine. It would even be better if you gave a ribbed skillet to mimic the grill marks from a griller – trust us, they won't know!
Checkout iheartumami.com for more information and tips to this recipe. Head on to their page as well to get a sneak peek at their own Paleo Teriyaki Sauce.
5. Prosciutto Wrapped Sweet Potatoes with Maple Balsamic Glaze
Net Carbs: 28g Proteins: 3g Fats: 13g

INGREDIENTS
2 small-medium sweet potatoes, parboiled
8 slices prosciutto, halved lengthwise
2 tablespoon extra virgin olive oil
salt and pepper
1/4 cup maple syrup
1 1/2 tablespoon balsamic vinegar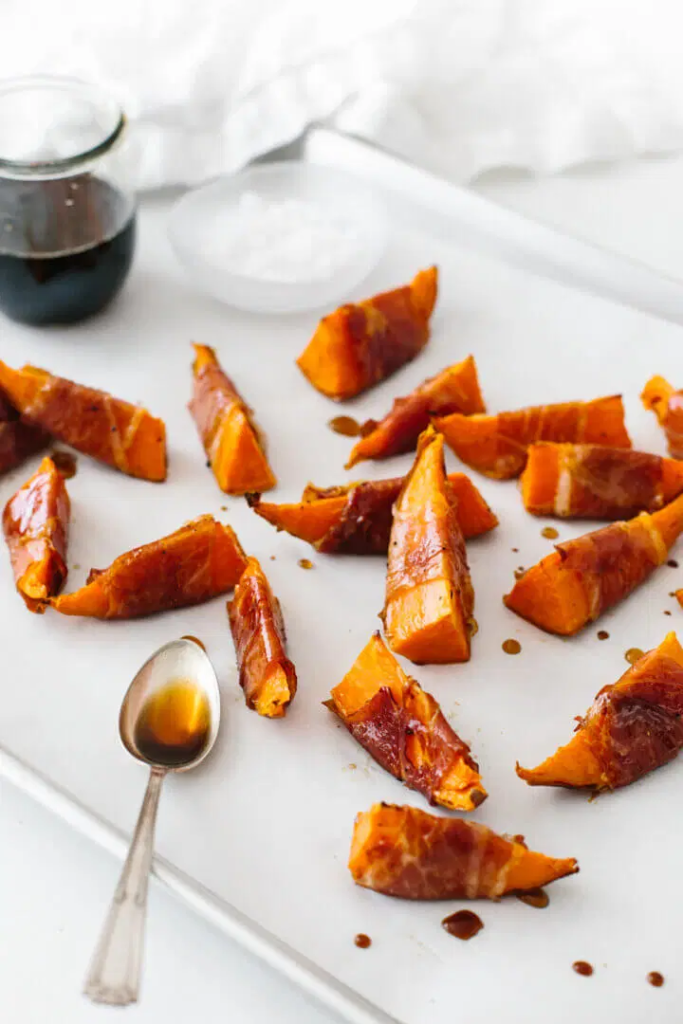 Level up your sweet potato game by wrapping it up in prosciutto and a fancy yet easy to do glaze. You may be hesitant to use prosciutto and think it is not wholly paleo-friendly. The truth is, as long as the meat you are using is free from additives, you're good to go! To ensure you're getting a 100% paleo dish, purchase your meats from a local organic farm you trust. In paleolithic times, dry-aging meat has always been around and has been passed down generation after generations. This recipe calls for a prosciutto specifically. You can use bacon, but we are after the aged flavor from the thinly sliced prosciutto meat.
Bring in more complexity and excitement to the table by drizzling your baked sweet potatoes wrapped in prosciutto slices with maple balsamic glaze. Just the right amount to get the sweet, sour, and salty combination you prefer. Word of advice, parboil your sweet potatoes to a slightly undercooked stage. Remember that you will still bake them afterwards. Pop them in the refrigerator if you plan to make them ahead of time this also keeps them from going overcooked in the oven.
Check out downshiftology.com for other similar recipes.
6. Buffalo Chicken Meatballs
Net Carbs: 1g Proteins: 7g Fats: 6g

INGREDIENTS
For the buffalo sauce: (or you can sub for pre- made paleo sauce)
2 tbsp Ghee
3/4 cup hot sauce 

For the meatballs:
2 pounds ground chicken
1 tsp Onion powder
1 tsp garlic powder
1 tsp dried dill
1 tsp onion powder
1 tsp dried parsley
1 tsp dried basil
1 tsp dried oregano
1/2 tsp Paprika
1/4 tsp red pepper flakes
1/4 tsp sea salt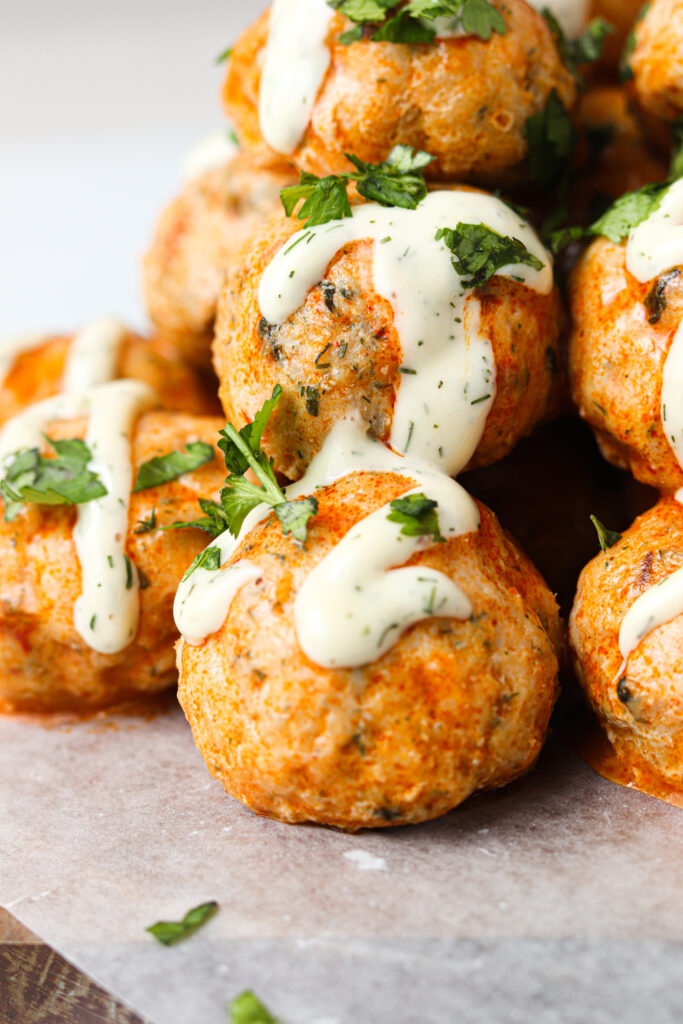 We know you're seeing a lot of ingredients in this list. Do not be intimidated! Yes, there will be a lot of mixing, but once that's done, all you have to do is put them all together and turn into balls. In fact, this recipe was made even easier by using dried spices and ground chicken for your convenience. If you've tried your hands on making a similar recipe and have had a hard time binding the meatballs, we suggest that you lightly fry them first before baking. This makes the balls hold their shape and will not crumble before your eyes in the oven. Alternatively, you can also pre-freeze them before popping in the oven.
Do not skip on the spices! Just don't. For your paleo-friendly buffalo sauce, try your best to get a hold of ghee. This oil, although it comes from cow's milk, contains traces to no lactose and casein at all, making it a paleo-go-to oil. In addition, this oil imparts a creamy and nutty taste to sauces. Add the sauce to the meatballs by either tossing the meatballs in a container, classic buffalo wings coating style, or simmer the meatballs in a pan with the sauce to infuse the flavors even more. This recipe also has an optional homemade ranch waiting for you! Click on to allianaskitchen.com for the recipe and start making this appetizer.
7. Pineapple 5 Spice Paleo Whole30 Chicken Wings
Net Carbs: 16.7g Proteins: 48g Fats: 13.1g

INGREDIENTS
For The Sauce: *
2 1/4 Cups Pineapple juice divided, not from concentrate
3 Tbsp. + 1 tsp Coconut aminos
2 Tbsp. Garlic minced
1 Tbsp. + 1 tsp Fresh ginger minced
1 tsp Sesame oil
1/4 tsp Sea salt
2 Tbsp. Tapioca flour

For The Wings:
3 Lbs. Chicken wings thawed if frozen
2 Tbsp. Chinese 5 Spice powder
3/4 tsp Red pepper flakes
Cilantro diced (for garnish)
Green onion sliced (for garnish)
Toasted sesame seeds for garnish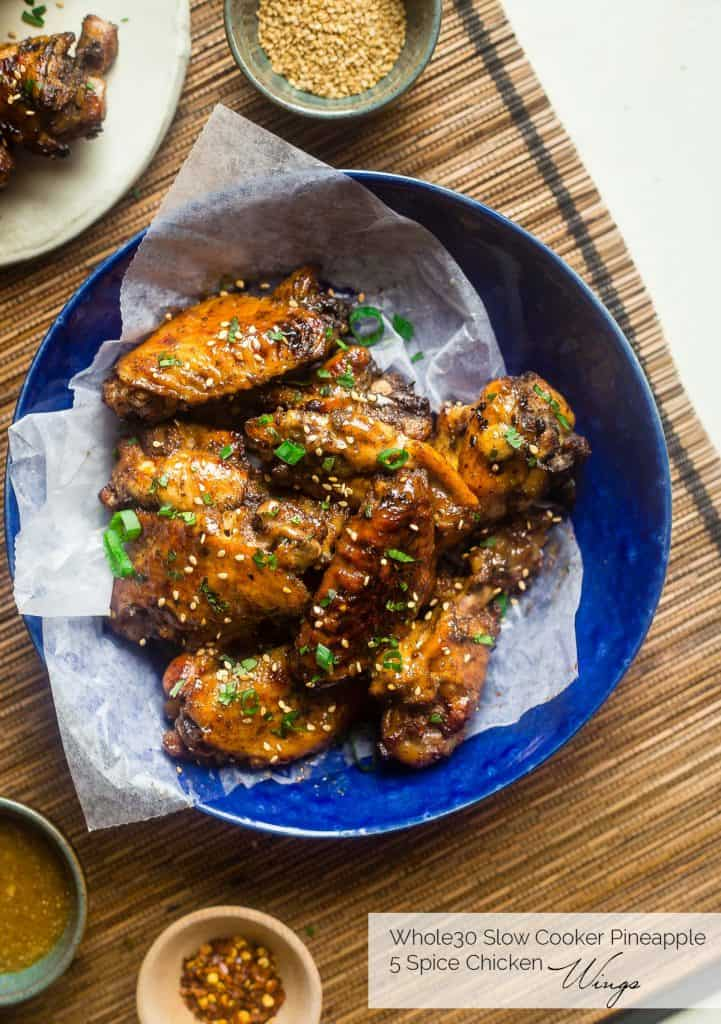 If your family is an adventurous bunch and don't mind getting their hands dirty, then serve up a sweet, spicy, sticky, and flavor-kicking wing platter as an appetizer for Thanksgiving. Although this recipe may have one too many steps and ingredients, your crock pot or any slow cooker will mostly do all the work. Eating it won't even be a hassle. This meal uses pineapple juice to add flavor to the meal, but what you don't know is that it also helps in tenderizing your chicken for a fall-off-the-bones chicken wing platter. Pineapple contains the enzyme bromelain which breaks down protein and softens it faster. While the temperature of your slow cooker rises, the effects of bromelain continues up to a certain temperature. Just in time to make it even softer.
This Asian-inspired meal is set to excite everyone with the heat from the spices you will be using. To achieve a better textured chicken, gradually increase the temperature of your cooker from medium high to high and cook it around 2 to 3 hours. Most of the time spent on waiting can be used to cook up another meal. To turn your chicken skin a bit crispy, you can oven bake your chicken further in an oven. The recipe suggests you add the sauce in the broiling process for 5 minutes, but we think you can omit that to speed up the process.
Find more useful tips and pointers from foodfaithfitness.com.
8. Roasted Pumpkin with Honey, Thyme & Pecans
Net Carbs: 17g Proteins: 2g Fat: 4g

INGREDIENTS
1 small sugar pumpkin (approx 3lbs)
1/3 cup melted ghee or butter (or coconut oil)
2 tbsp honey (or maple syrup if vegan)
1/2 tsp cinnamon
1/2 tsp thyme
1/3 tsp salt
1/4 tsp pepper
1/4 tsp chili powder
1/8 tsp nutmeg
1/3 cup chopped pecans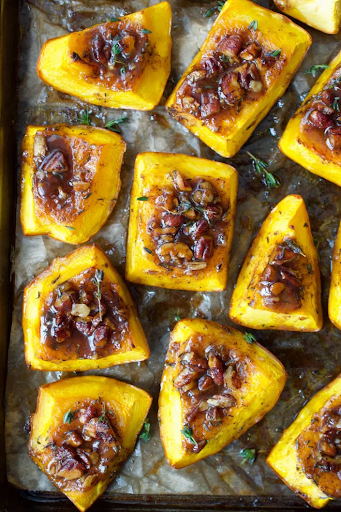 Pumpkin is the ultimate vegetable for autumn season and here's a great appetizer for your Thanksgiving table. This recipe is a great way to turn your creamy squash into a sweet and salty treat. It is pale-, grain-, gluten-, dairy-free, and vegan! Yes, it can be all that and still be as exciting as ever. For your first tip from the recipe blog, pick out a smaller pumpkins for more flavors and firmer texture. You do not want your pumpkin bites to turn into mash after baking them.
You can also leave the skin of your pumpkin or peel it before cooking depending on your preference. Either way, the skin of a pumpkin is very much edible and contains a large amount of benefits associated with pumpkins. The general rule is that, the bigger your pumpkin, the tougher its skin will be.
Currently, this provided recipe is not vegan, but it won't take much to convert it. Just replace butter with coconut oil and honey to maple syrup. Want more tips for this recipe? Head over to everylastbite.com.
9. BLT Bacon Cups with Avocado
Net Carbs: 3g Proteins: 1g Fat: 2g

INGREDIENTS
12 Thick-Cut Black Pepper Bacon Slices
1/2 large avocado (peeled, diced)
1/2 cup fresh tomatoes (diced)
2 leaves Green-Leaf lettuce (torn into small squares)
1/2 Jalapeño (seeded, diced small)
Salt and Pepper to taste

Time to give your regular bacon, lettuce, tomato dish a boost by pairing it up with an avocado filling and the best time to introduce them to the family is this Thanksgiving! This recipe suggests for you to use thick-cut black pepper bacon slices, but we don't want to limit you, go crazy. As long as it is paleo-friendly, we approve of it. The important thing to remember is that the slices must be thick enough to hold on to the main event – your avocado filling.
The punchy flavors from this type of bacon are meant to balance out the light flavors from your avocado, lettuce, and tomato. It is as if this recipe was intricately made to form a harmonious song. Choose between serving the avocados inside the cups as a smooth guacamole or slightly mashed cubes with a bit of chunks. 
taketwotapas.com offers a lot of other tips to make sure nothing goes wrong with your bacon cups.
10. Creamy Cashew Queso Dip
Net Carbs: 9.7g Proteins: 4.3g Fat: 10.7g

INGREDIENTS
1 cup raw cashews, soaked in just boiled water for at least an hour
1/2 cup + 2 tablespoons just boiled water + a little more if needed
1/2 teaspoon dried mustard OR 1 teaspoon dijon mustard
1 tablespoon lime juice
1/4 teaspoon chili powder
2 tablespoons nutritional yeast
1/8 teaspoon turmeric powder (optional – for color)
About 1 tablespoon of your favorite hot sauce – (for a whole30 / paleo friendly recipe read your hot sauce ingredients!)
1 teaspoon sea salt
3 tablespoons of your favorite salsa
Thinly sliced green onions to garnish


We bet you thought twice when you read the subheading for this recipe when you saw the word "Queso". Relax! We know you are looking for a paleo-friendly recipe and that's what we've listed. This dip mimics the creamy and flavorful taste of cheese by combining crushed cashews and nutritional yeast. To achieve your desired texture of cashews fit for grinding, soaking is an essential process. In addition, soaking your cashew nuts in water that has just boiled helps in reducing the phytic level of these nuts. Phytic acid is an antinutrient in most nuts and is inactivated by heat. It hinders the absorption of some of the essential nutrients and proteins in the body by binding with them and reducing their availability.
For a smoother texture of dip, soak your cashew nuts longer. In addition, you can change the profile of your cheese depending on the nuts you use! Mix it up with other nuts such as almonds, macadamia, or even peanuts – as long as you are not allergic to them. Head to nyssaskitchen.com for more tips to improve your all-around "Queso" dip.