8 Sure Hit Main Dishes for Thanksgiving + SiDE DISHES
We all know that the star of a Thanksgiving meal is the turkey, we get it. Despite this, there is no stopping you from fascinating the crowd with other delicious main dishes and sides. To make things a bit more diverse, try serving an all-paleo-friendly course meal to the table and get your family inside the paleo life. This diet is just basically eating healthy without the refined sugars, preservatives, processed foods, and the like in your diet. Just like how the first men did in earlier times.
The idea of mimicking a paleolithic diet is to live a healthier life by eating whole foods which brought men from earlier times a long life. It does not have to be boring! Paleo-friendly diets can introduce you to a whole lot of new recipes you've never imagined existed. Do not be worried about not getting your cheese, we've got a better alternative for you! Browse through our list of recipes you can serve up for Thanksgiving dinner while maintaining a paleo-friendly diet.
1. Crusted Rack of Lamb with Herbs and Macadamia Nuts
Net Carbs: 11.1g Proteins: 27.7g Fats: 56.6g
     
INGREDIENTS
For the rack of lamb
2 racks of lamb (French-trimmed, 3–4 lamb cutlets per person)
1 cup macadamia nuts (other nuts can also be used)
1 large clove of garlic, peeled
1/2 cup chopped parsley
4 tablespoons olive oil
2/3 teaspoon sea salt
A little extra salt and black pepper
Some ghee, coconut oil or olive oil for cooking
A large roasting tray

For tomatoes
2 vines of cherry tomatoes
1 tablespoon olive oil
2 tablespoons balsamic Vinegar
1/2 teaspoon sea salt


If there is one thing that can distract the whole family from the attention that the turkey gives off, it would be a crusted lamb rack. Thanksgiving dinners are always expected to have full flavors and warm and hearty dishes. This Thanksgiving, go and splurge a bit to impress your family with a beautifully crusted rack of lamb. If it's your first time cooking lamb, you may want to gather a few pointers as this meat cooks differently from beef and pork. Plus you do not want an expensive cut of meat to go to waste. If you purchased a whole lamb rack and have taken up the challenge of cleaning it yourself, be sure to remove the connective tissues and fats from the meat, while leaving a few for flavor. If you have no time for that, have the butcher do it for you.
Lamb meat or mutton is considered a red meat and essentially contains more zinc and iron than pork and chicken. Contrary to beef, lamb even has an abundant amount of omega-3 fatty acids that is good for your heart. That's more reason for you to splurge on this meal. This recipe even comes with a side dish carefully curated for your lambs. Pair your flavorful crusted lamb rack with a light and zesty roasted cherry tomato. 
Head over to irenamacri.com for a more in-depth guide on how to get a perfect cook on your lamb.
2. Sweet & Spicy Glazed Salmon
Net Carbs: 11g Proteins: 23g Fats: 14g

INGREDIENTS
1 lb wild-caught salmon
1/2 tbsp chili powder
1/2 tbsp coconut sugar
1/2 tsp pink salt
1/2 tsp black pepper
2 1/2 tbsp pure maple syrup
1 TBS coconut aminos (can sub soy or tamari sauce)
1 tsp stone-ground mustard
1 tsp sriracha, to taste (use a paleo-friendly sriracha if desired)



Here is a recipe that will give a spin to the usual creamy and zesty salmon dishes you see around. Spice up the table even more with this Sweet and Spicy Glazed salmon. This recipe calls for a fresh fish, but you can always opt for a frozen, store-bought salmon. Just make sure to gradually thaw your protein to prevent the fish meat from collapsing.
When cooking salmon, it is always best to pat dry it as suggested by fitmittenkitchen.com. This step removes the excess water on the surface of the fish and makes the cooking process, whether baking or broiling, more efficient. This also helps you get a crispier skin on the outside.
Salmon cooks faster than beef or pork because it has relatively lower collagen. Overcooking your salmon makes it bland, dry, and the bad kind of flaky. Adding in the glaze while resting your protein helps seal in the moisture. To add to this recipe's tips, you can flash fry your salmon slices, skin facing down, to create a crispier texture before adding the glaze. 
Enjoy more recipes and tips from fitmittenkitchen.com.
3. Whole30 Vegan Vegetarian Curry
Net Carbs: 15g Proteins: 5g Fats: 29g

INGREDIENTS
Vegetables:
1 bell pepper, diced (optional, See notes)
12 oz. cauliflower florets
10 oz. broccoli florets
10 oz. eggplants, , diced to cubes (optional. See notes)
6 tbsp. olive oil
1 tsp coarse salt
¼ tsp ground black pepper

Aromatics:
2 tbsp. chopped garlic
1 tbsp. chopped ginger
2 large shallots, finely chopped

Other:
1 tsp each turmeric, coriander, and cumin powder
14 oz. full fat coconut milk
1.5 tbsp. almond butter or sunbutter
1 to 1.5 tbsp. tamarind concentrate, (alt. lime juice to taste)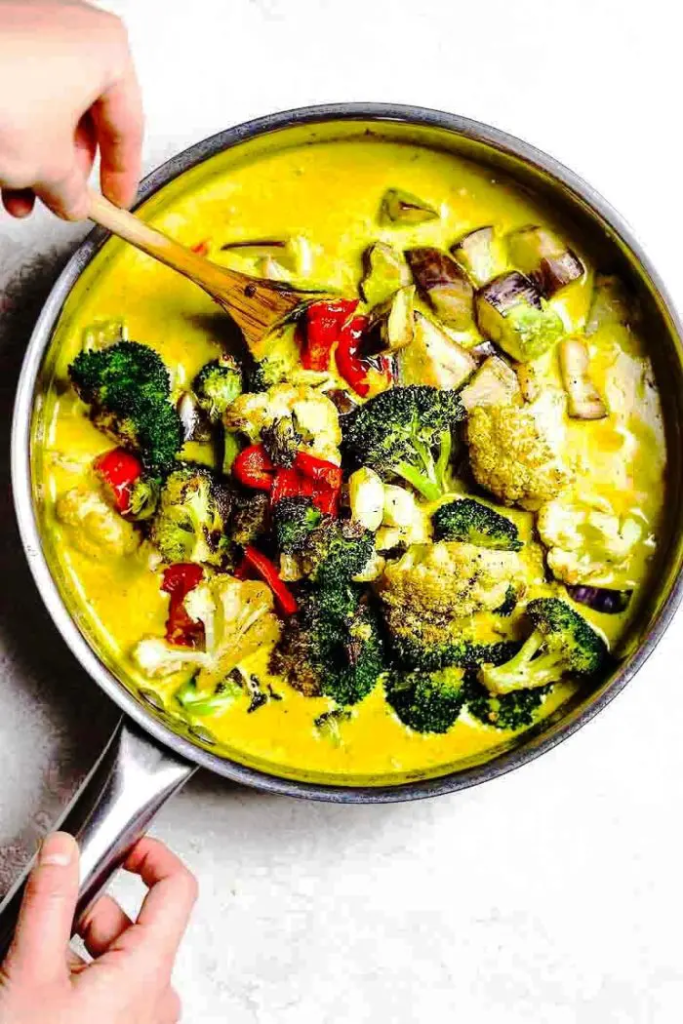 Despite not knowing the concepts of veganism and vegetarianism, earlier men enjoyed the benefits of eating whole foods, especially vegetables. It kept them nourished and helped them live healthily. This recipe is for the vegan/vegetarian members of the family. Yes, that is correct. Paleo diet can be paired very well with vegan/vegetarian diets. This recipe is loaded with fibers from vegetables and the good kind of fat from coconut milk and almond butter.
To make this recipe even more diverse, for the non-vegetarian family members, serve this vegetable curry with roasted proteins such as chicken or fish. This recipe suggests that you roast the vegetables prior to mixing them in the curry sauce. This brings a lot more complexity to the dish. Curry is supposed to pack a punch of flavors and have a depth of complexity, and this recipe will definitely not disappoint. In fact, it may be a bit too much for some. Adjust the recipe according to your taste and let everyone enjoy themselves around the table.
Visit iheartumami.com to check out their sources of ingredients and tips.
4. Zucchini Pasta with Lemon Garlic Shrimp
Net Carbs: 12.3g Proteins: 27.4g Fats: 14.5g

INGREDIENTS
4 medium zucchini
1.5 lb. approx. 30 raw shrimp, peeled and deveined
2 tbsp. olive oil
4 garlic cloves, finely chopped
2 tbsp. butter or ghee
1 lemon, juice and zest
1/4 cup white wine, or chicken broth
1/4 cup chopped parsley
Pinch of red pepper flakes
Salt and pepper, to taste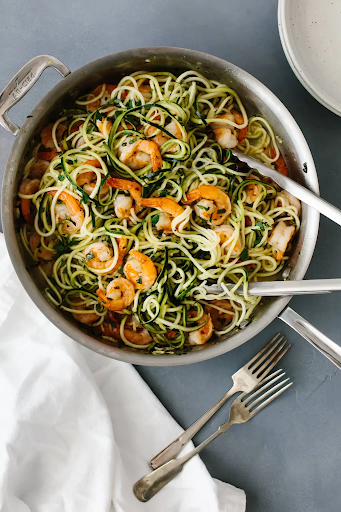 If you are hesitant to serve pasta for this Thanksgiving, don't be. Here is a recipe which you will surely be proud of serving to your family. Completely paleo-friendly, this seafood pasta meal is a sure way to brighten up the rather flavor-loaded table. We know we said pasta, but hey! Pasta is off limits with a paleo diet. So, we found a great recipe to go around this rule. Zucchini is the secret ingredient to get the right texture similar to pasta. What's even better is you do not have to boil these zucchini strips to cook. They go together with the cooked shrimps at the last part of the recipe.
Zucchini imparts the crunchy counterpart yet succulent insides to the dish. The least cooking you can do to your zucchinis is to blanch them, nothing more. Over cooking them will only cause the strips to go limp and soggy. This vegetable is a great source of folate without the calories and fat. It is also packed with lots of vitamins and minerals such as vitamins A and C, as well as lutein.
You do not want an overcooked zucchini pasta nor shrimp. For more guides on how to perfect this recipe, visit downshiftology.com.
5. Paleo Shepherd's Pie
Net Carbs: 37g Proteins: 26g Fats: 34g

INGREDIENTS
Ground Beef Layer
2 tablespoons avocado oil or ghee
1/2 cup yellow onions diced
4 carrots diced
6 garlic cloves minced
2 red bell peppers diced
16 ounces mushrooms sliced
1 tablespoon avocado oil
2 pounds grass-fed ground beef
1 teaspoon sea salt
1/2 teaspoon black pepper
1 teaspoon onion powder
1 teaspoon ground ginger
1 cup bone broth- Find Here!
6 ounces tomato paste
1/2 teaspoon fish sauce
Sea salt and black pepper to taste

Sweet Potato Mash
2 pounds large sweet potatoes
8 garlic cloves peeled
2 teaspoons kosher salt to taste
1/4 cup canned coconut milk
2 tablespoons California extra virgin olive oil
Kosher salt to taste
Black pepper to taste

We know shepherd's pie is usually cooked after Thanksgiving itself but you don't always have to use leftover meat to make one. This pie was originally conceptualized by housemothers to find a way to repurpose leftover food from last night's dinner. This shepherd's pie recipe makes a meal that hits just like home and is absolutely hearty. It's the type of meal that you always want to eat after a long ride back to your hometown. Do not be intimidated by the long list of ingredients, they're all easy to prepare, with some readily available. What makes this pie exciting is how you will be using sweet potatoes blended with coconut milk for a creamier topping, added with cloves and pepper.
This recipe is completely flexible. You can substitute the main protein for the meat of your choice and alternatively use regular, white potatoes in place of sweet ones – but this substitution ticks off the paleo-essence to this recipe. There will be no guilt in eating this pie as it is completely gluten and dairy-free. Leftovers are not even a problem. Shepherd's pies were built to last long inside the refrigerator. The thick covering layer of potatoes protects the moisture from the filling from escaping.
There's more to this recipe and themovementmenu.com has it all in their website.
6. Spicy Grilled Citrus Turkey Breast (Paleo)
Net Carbs: 6g Proteins: 26g Fats: 9g

INGREDIENTS
4 pound turkey breast, boneless and skinless
3 jalapenos, minced (take out seeds for less spice)
1 1/2 tablespoons cumin, divided
1 1/2 tablespoons dried oregano, divided
1 1/2 tablespoons onion powder, divided
1 cup pineapple juice
1 orange, juiced and zested (about 1/2 cup)
1 lime, juiced and zested (about 3 tablespoons)
1/2 cup coconut aminos
1/2 tablespoon garlic powder
1 teaspoon red pepper flakes
Salt and pepper, to taste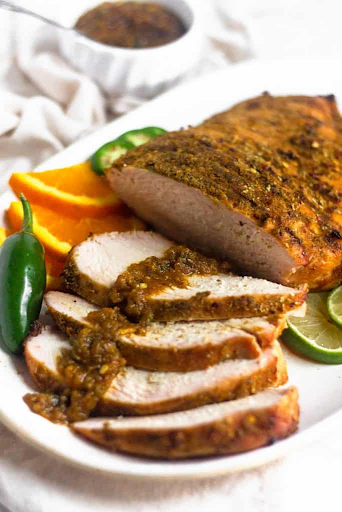 Here is a fun way to "spice up" your usual turkey for Thanksgiving, figuratively and literally. Gone are the days of boring, dried up turkey breasts for Thanksgiving. This recipe does not require you to buy a whole turkey – only breast parts. Marinating the turkey with the citrus marinade is crucial. Turkey, especially the breast part, is considered to be tough and has very little fat in it. Marinating it with lime and pineapple does not only help flavors become infused to the meat, but also help tenderize it. Citric acid from lime and bromelain, an enzyme, from pineapple break down proteins in the meat and allow it to be cooked faster without becoming dried. The "softening" process allows the flavors to penetrate the meat faster and become sealed when cooked.
This recipe is even efficient. Don't throw away your marinade and repurpose it as your sauce to serve on the side. Serving a controlled portion of turkey gives way for more main dishes on the table. Learn the step-by-step process of making this meal from eatthegains.com.
7. Paleo Thanksgiving Turkey with Fresh Herb Rub
Net Carbs: 5g Proteins: 87g Fats: 36g

INGREDIENTS
10 lb. fresh turkey
2 ribs celery , cut in chunks
2 large carrots , cut in chunks
1 medium onion , roughly chopped
2 bay leaves
1 sprig thyme

Herb crust:
1 bunch rosemary , fresh, finely chopped
1 bunch thyme , fresh, finely chopped
1 bunch sage , fresh, finely chopped
½ cup olive oil , or, coconut or avocado oil
1 tbsp. kosher salt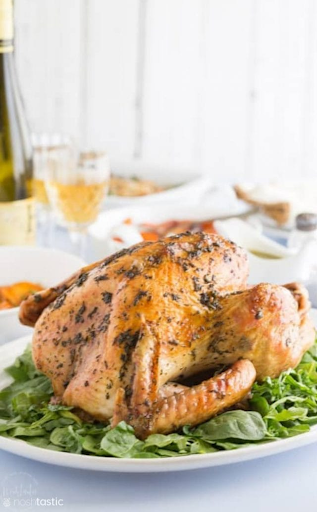 Aside from being paleo-friendly, let this Thanksgiving dinner be bold on flavors. Turn your whole roasted turkey into an herby delight for everyone. This recipe is for the believers that a whole turkey must be served for Thanksgiving, but don't let it be just a plain roasted turkey. For this coming Thanksgiving, bank on buying fresh herbs for your herb crust. Writers at noshtastic.com emphasized that this recipe calls for fresh herbs. While dried herbs still pack a lot of flavors, the drying process they have gone through significantly affects these flavors and may sometimes impart a bitter taste when used too much. The website even gives out a very valuable and smart trick to get your turkey skin to crisp up beautifully. As they mentioned, leave your turkey overnight in the refrigerator uncovered. This will help dehydrate the skin and allow it to become crispy faster inside the oven. 
Roasting a whole turkey inside an oven can be a nerve-racking task. We suggest you pay close attention to it or set-up a timer. Turkey needs to be internally cooked to a temperature of 160०F from the thickest part of the fowl which is the breast. Let noshtastic.com teach you how to get a perfect roast on your turkey for this Thanksgiving.
8. Cornbread Stuffing (Paleo, Gluten free)
Net Carbs: 11g Proteins: 7g Fat: 24g

INGREDIENTS
8 cups paleo cornbread cubed
¼ cup organic ghee
1 medium sweet onion chopped
3 ribs celery chopped
1 green pepper chopped
1 bunch green onion chopped
1 cup chopped pecans
¾ teaspoon sea salt
½ teaspoon fresh ground pepper
¼ teaspoon cayenne pepper
¼ cup chopped fresh parsley
1 tablespoon chopped fresh thyme
2 eggs beaten
¾ cup chicken stock or vegetable stock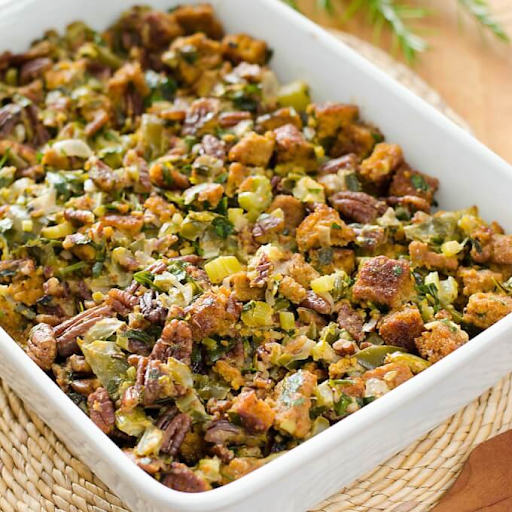 Time to learn how to get around eating Thanksgiving turkey stuffing while still embracing the paleo lifestyle. For this recipe, you will need to learn how to bake Cook Eat Well's very own recipe for a Paleo Cornbread recipe. This recipe is not only paleo-friendly it's even low-carb and gluten-free. Low carb even with the cornbread? The truth is, there is no corn in this cornbread stuffing. It's all nuts – literally! Although a bit time consuming, this recipe can only be seen as a winner at the table alongside your roasted turkey.Easily shift this recipe into being vegetarian by substituting chicken with vegetable stock, and into being keto-friendly by changing your recipe for cornbread. More suggestions and complementary recipes at cookeatpaleo.com.
BONUS SIDE DISH #1: Roasted Brussel Sprouts with Spiced Apples
Net Carbs: 12g Proteins: 4g Fat: 16g

INGREDIENTS
1 lb. brussels sprouts
1 large apple
1 lb. chopped butternut squash (or any of your favorite squash)
1/2 cup pecans
1/4 cup olive oil
Salt, pepper
Pinch cinnamon, rosemary (optional)
Pomegranate seeds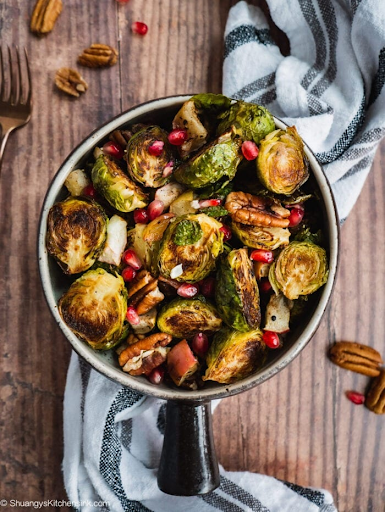 Complement your main course meals with a great side dish. Brussel sprouts may not always be everyone's favorite but some are about to convert their perceptions after tasting this meal. Brussel sprouts are vegetables with very high fiber and vitamin C. In addition to that, they have very low calorie content. To add to the savory taste of this vegetable are squash and pecans contrasted by the sweet and spicy flavors of spiced apples.
The only thing that holds some people back from loving this vegetable is the bitterness it has. Reduce the bitterness of your brussel sprouts by lightly salting and washing them before cooking. Roasting them is also a great way to reduce bitterness.
The writers at shuangyskitchensink.com are proud at how nutritious this delightful recipe is in addition to its sweet-savory flavors. It is loaded with potassium, magnesium, Vitamins A, B6, and E from butternut squash, proteins and a bit of healthy fats from pecans, and antioxidants from pomegranate seeds. Learn more about how this dish is good for you at shuangyskitchensink.com.
BONUS SIDE DISH #2: Roasted "Loaded" Cauliflower Sheet Pan Dinner
Net Carbs: 5g Proteins: 27g Fat: 51g

INGREDIENTS
1 large head cauliflower chopped bite-size
10-12 ounces bacon
1 bunch green onions chopped, whites and greens separated into two piles (omit whites for Keto)
1 cup cheese (optional), grated: leave out for AIP, Whole30 or if you can't have dairy; best options include aged cheddar, Gruyere, fontina, jack and mozzarella
1 teaspoon sea salt
Freshly ground pepper optional, leave out for AIP
Several large sprigs/branches fresh thyme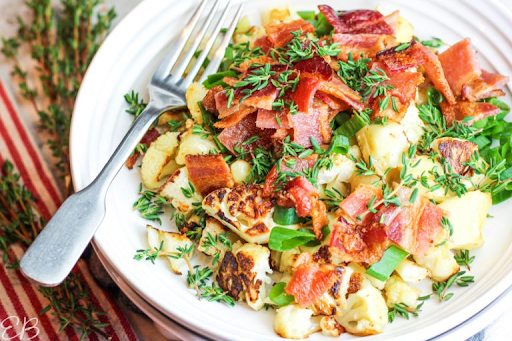 While we are at the pace of suggesting nutritious side dishes for you, here is another one. This recipe is not only paleo-friendly, it is also keto-, Gut and Psychology Syndrome- (GAPS), Autoimmune Protocol(AIP)-friendly, and can even be made into vegan depending on your audience's needs. To encompass all these diet restrictions (except vegan) in one go, all you have to do is swap out your dairy cheese with nut-based cheeses. 
Pair this perfect side dish with any of your flavorful main dishes and win the trophy over Thanksgiving dinner's table. A lot more variations and information are waiting for you at eatbeautiful.net. Head on to their website and learn more about this recipe.