In Between Meals: Low Carb Snacks for Thanksgiving
During Thanksgiving there will always be family members who will come earlier than expected. You have to keep them busy and well fed before the meal starts. You can't serve plain junk foods and drinks. You have to level up your game for everyone who is coming. This Thanksgiving, show your skills in making keto-friendly snacks to serve on the coffee table. Get your creative juices going or at least know your options for snacks.
Check up on what's keto-friendly and not by always remembering the ratio you are aiming for in a ketogenic diet: 70% fat, 20% protein, and 10% carbohydrates. The target for a ketogenic diet is to consume less carbs to induce the body to use your stored fats for energy production. It does not have to sound or look boring! Learn some recipes you can serve without getting the head shake of disapproval.
1. Keto Low Carb Tortilla Chips
Net Carbs: 4.8g Proteins: 8.3g Fats: 9.2g

INGREDIENTS
Serving: 8
200 g or 2 cups pre-shredded mozzarella
75 g or 3/4 cup almond flour ground almonds work well too
2 tbsp. psyllium husk or 2 tsp psyllium husk powder
Pinch salt
Optional: 1/4 tsp. each garlic powder/onion powder/paprika

What's good about this recipe is you only need three main ingredients and you will be getting a bowl of ketogenic tortilla chips. In this recipe, you will be substituting corn, the commonly used main ingredient for making a tortilla, with almond flour. Compared to corn flour, almond flour is known to have a significantly lower amount of carbohydrates. Corn flour has approximately 91g of carbohydrates per 100g (definitely not ketogenic), whereas almond flour only has 20g!
The only difference is, the starch content of corn flour allows it to bind the chips after slight cooking allowing you to form triangles, whereas almond flour has too little carbohydrates to do this and it is absolutely gluten free. This means that there is nothing to bind the dough together. Despite this, sugarfreelondoner.com has the answer for you – mozzarella! The partially melted sticky goodness of mozzarella will serve as the binding agent for your chips! Add in a bit of flavor by mixing spices and other flavors you like, whether within the dough or as powdered toppings. Pair this recipe with a keto-friendly guacamole.
2. Low-Carb Onion Rings
Net Carbs: 4.5g Proteins: 16g Fats: 12.5g

INGREDIENTS
Serving: 2
1 medium white onion
1/2 cup Coconut flour
2 large eggs
1 tbsp Heavy Whipping Cream
2 oz Pork Rinds
1/2 cup grated parmesan cheese

The only culprit that's keeping you away from a good set of onion rings is the flour you're using. In this Onion Ring recipe, you get to try using coconut flour in combination with pork rind and parmesan. This mix is completely gluten-free, and has significantly less carbs than your regular onion ring breading. The secret and vital ingredient to get that crispy texture here is the pork rind. Deep frying processed pork rind gives you the crunchy texture you want in an onion ring.
For this recipe, you have to be agile and organized. The mozzarella-pork rind combination has the tendency to clump due to moisture and egg drippings. When this happens, you need to reprocess them and put in more dried pork rind. This snack will always be your best bet while everyone is watching a game on television during Thanksgiving.
3. No-Bake Peanut Butter Coconut Cookies
Net Carbs: 3g Proteins: 4g Fats: 7g

INGREDIENTS
Serving: 12 cookies
1 cup peanut butter
2/3 cup granulated sweetener of choice
1 large egg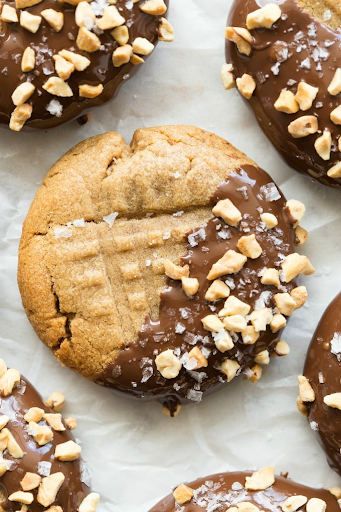 We know you will be needing a lot of time to prepare for all the meals for Thanksgiving, so we are speeding things up for you by giving you recipes with very few ingredients and needed clean-up after! Here is another one of those recipes. For a ketogenic diet, you will be seeing a lot of peanut butter-infused recipes. Peanut butter (without any other flavors and unsweetened) is a very keto-friendly food product. It is filled with the right kind of fats you need and has a significantly high amount of proteins. We see a lot of peanut butter-filled recipes in your future.
For this recipe, you will only need a single bowl and a spatula for mixing. All you need to do is put all the ingredients together and mix them well until homogenized. No creaming, no whipping, just mixing. For a more vegan-friendly recipe, in addition to being keto, thebigmansworld.com suggests using ground chia seeds as an alternative for eggs. The good thing about cookie dough is you can always make them ahead and just pop them right into a preheated oven. Freezing them beforehand even helps the cookies get an even shape when being cooked – extra top spotted. To make things even more perfect, dip your peanut butter cookies into peanut butter or any keto-friendly sauce you have and enjoy!
4. DIY Keto Snack Bars
Net Carbs: 5g Proteins: 4g Fats: 16g

INGREDIENTS
Serving: 4-6
115g (1 Cup) Blanched hazelnuts
40g (1/3 Cup) Almond flour
1 tbsp. cocoa powder
50g (1/4 Cup) Powdered monk fruit allulose blend or desired sweetener
1 heaped tbsp. Almond butter or any nut butter
15g (1/2 oz.) Coconut oil, softened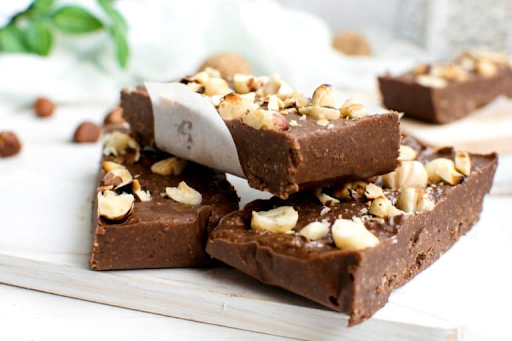 No need to cry over not being able to eat your favorite candy bar just because you're on a keto diet. This recipe is for you and will surely be a hit for the kids and kids at heart as well. This recipe features a few more tricks to upscale and use nuts for great-tasting keto snacks. No need to bake anything, all you need are a food processor and a chiller. To make a snack bar based on nuts, you have to remember that not all nuts are keto-friendly.
Some nuts you can consider as good for a keto diet are pecans, brazil nuts, macadamia, and hazelnuts. On the contrary, you may have to pass on cashews, pistachios, and peanuts as these are quite high in carbohydrates. Comments on this recipe are more focused on not being able to get the bars to set. A few points which could have caused this is 1) the type of oil you are using has a very low melting point, 2) your nut butter has a high amount of lecithin which makes the mixture runny, or 3) your bars need more time on the chiller.
Visit ieatketo.com for more information and tips on this recipe.
5. Low Carb Sweet and Spicy Mixed Nuts
Net Carbs: 5g Proteins: 6g Fats: 21g

INGREDIENTS
Serving: 13
1 cup cashews
1 cup walnuts
1 cup almond slivers
1/4 cup pumpkin seeds
2 egg whites
1 1/2 teaspoon sea salt
1/2 cup low carb sweetener
2 tablespoons Worcestershire sauce
2 tablespoons paprika
1 1/2 teaspoon cayenne
6 tablespoons butter, melted and slightly cooled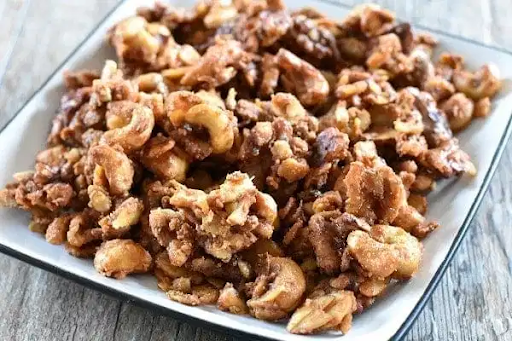 A Ketogenic diet does not have to involve overthinking. You can always whip up a great snack without having to search through the pantry and get stressed. For this Thanksgiving, serve something spiced and flavorful as snacks. For a low carb sweet and spicy mixed nuts, you can mix and match any nut and seeds you have. As we have mentioned, there are a few nuts that may be quite high on carbohydrates, and therefore are not very suitable for a ketogenic diet. Especially for a snack which we know you'll be having more later.
In general, cashews have at least 30g of carbohydrates per 100g. Substitute this nut with a similarly textured and creamy alternative such as macadamia which has only 14g of carbs per 100g of nuts. This recipe yields a product that is quite complex on the flavors yet seriously addicting. For a make-ahead snack, store these mixed nuts in an air-tight container. Sugar substitutes or any low carb sweeteners are very hygroscopic in nature. This means that they attract moisture and will ruin the texture of your snacks. Keep them fresh and crunchy up to the last bite.
Head over to trinakrug.com for more information.
6. Low Carb Pumpkin Cheesecake Tarts
Net Carbs: 4.6g Proteins: 6.01g Fats: 19.27g

INGREDIENTS
Serving: 10

Crust
8 tablespoons salted butter
2 large eggs
¾ cup coconut flour
2 tablespoons granulated Splenda

Pumpkin Cheesecake Filling
6 ounces cream cheese, softened
3 large eggs
1 ¼ cups pumpkin puree
¾ cup granulated Splenda
1 teaspoon cinnamon
1 teaspoon allspice
1 teaspoon vanilla extract
½ teaspoon ground ginger


Is there a more clear-cut sign that Thanksgiving is just around the corner than a pumpkin-spiced snack? We know we mentioned about giving you easy recipes, but for those who like a bit of a challenge, here's the recipe for you. Infuse the very popular pumpkin spice on your low carb cheesecake tarts. We know how your regular short-crust pastry used for tarts are quite high on carbohydrates so here's the best substitute for you. Although there are several store-available pastry doughs, this one's keto-friendly.
In addition to being very keto-friendly, our substitute flour in this recipe, coconut flour, has significantly lower carbohydrate content than wheat flour. This flour also imparts longer satiety value to the product. That only means it'll take you longer to digest it and won't be craving for other foods longer. Coconut flour is also rich in fiber and proteins. Despite this, we can't promise you this crust will be as flaky as the ones you are used to nor will it be flaky. One thing is for sure, it goes well with the cheesecake filling, you won't even remember that tarts were supposed to be flakey.
Let ruled.me lead you on how to make these for the family.
7. Keto Zucchini Chips
Net Carbs: 5g Proteins: 3g Fats: 9g

INGREDIENTS
Serving: 4
Olive oil spray
2 medium zucchinis, about 1 lb. total weight
1 ¼ teaspoon Diamond Crystal kosher salt (divided)
½ teaspoon garlic powder
¼ teaspoon black pepper
¼ cup grated Parmesan

Here's another recipe that's not just keto-friendly, but also vegetarian and gluten free. To achieve the best results for this snack, you have to take note of a few things. Purchase small and firm zucchinis. Larger zucchinis tend to have more water content in them and will defeat the purpose of baking them. You want to start with ingredients with very low moisture as much as possible to make the chips crispier. In addition to this, slice the zucchinis very thinly and evenly to get even and faster cooking.
In this recipe, you need to salt the zucchinis before flavoring and baking them. This process draws out extra moisture out of the vegetable for a more efficient baking. Don't let the recipe limit you, you can easily do this with any other vegetables! This recipe would also do well with kale and spinach.
Learn more about this recipe and tips you need to follow to achieve a crispy outcome at healthyrecipesblogs.com.