Paleo Desserts for Thanksgiving
When you were introduced to the paleo diet, you must have been warned that most sugars, refined and unprocessed are off-limits. You were probably very hesitant, especially if you have a sweet tooth. No need to worry! There are a lot of ways to go around this restriction while still being faithful to a paleo diet. Earlier men enjoyed sweet foods as much as you do now, although in small amounts. This article is dedicated for those who are finding ways to come into terms with paleo life this coming Thanksgiving.
Whether you are in charge of setting up the table for this year's Thanksgiving or you are tasked to bring a dessert, this article will surely help you. Find out which ingredients do not work with paleo living and great alternatives for them. Don't let the restrictions get in the way of your desserts.
1. 3-Ingredient Coconut Crack Bars
Net Carbs: 2g Proteins: 2g Fats: 11g Calories: 108
     
INGREDIENTS
3 cups Shredded unsweetened coconut flakes
1 cup coconut oil, melted
1/4 cup monk fruit sweetened maple syrup Can substitute for any liquid sweetener of choice



Easy to make, just three ingredients, paleo-friendly, and still sweet? This recipe is for you! It is perfect for an on-the-go type of person who can't find the time to whip up a great dessert to bring on Thanksgiving but still want to impress his or her family. This knockout dish features monk fruit-sweetened maple syrup as sweetener and the binding agent to create a perfect bar. Monk fruit has been used in earlier times for their anti-inflammatory effects and in keeping blood sugar levels stable. It has zero calories, no sugar, and has no known side effects.
If this type of sweetener is not available in your area, pure maple syrup works as well. Although, do take note that the recipe mentions not to use maple syrups labeled as sugar-free as these are artificially sweetened and have a water-like consistency. In addition, if you want to keep it low on sugars, only pick-out unsweetened coconut flakes. Wow the crowd with this paleo- and keto-friendly dessert that's completely sugar-free and does not require baking.
For more alternative ingredients, head to thebigmansworld.com.
2. Strawberry Coconut Whipped Cream Trifle
Net Carbs: 26.5g Proteins: 5.6g Fats: 19.1g Calories: 294

INGREDIENTS
Cake:
1/2 cup ghee, room temp (butter or coconut oil works)
4 eggs
2 teaspoon vanilla extract
1/2 cup agave nectar
2 cups almond flour
1/4 cup coconut flour
1 teaspoon sea salt
1 teaspoon baking powder
1 teaspoon baking soda

Coconut Whip:
4 cans (15 oz. cans) unsweetened coconut cream
1/3 cup agave nectar
1 1/2 teaspoons vanilla bean powder
1/2 teaspoon sea salt
1 pint fresh strawberries, sliced




Here is a recipe for a centerpiece worthy dessert. Excite your audience with an absolute eye candy of a dessert that is a trifle. Although a bit tedious because you have to bake your own paleo-friendly cake, this recipe is very flexible and is a light and fluffy treat in contrast to the heavily flavored Thanksgiving dinner. What we mean by flexible is this recipe is not strictly confined to using strawberries. Make things more exciting and brighter with a mix of fruits. This recipe calls for your baking skills which will be tested by using gluten-free ingredients such as almond and coconut flour with agave nectar as you sweetener. The challenge is to get a fluffy texture to complement the bright flavors of your fruits.
Serve a neatly stacked trifle on the dinner table by carefully curating the cake-fruit-cream ratio. The recipe also gives out a valuable tip which is to chill your coconut cream prior to whipping and serving it. Low temperature helps the cream to hold the air inside it with the network of fat it creates upon whipping. When whipped in room temperature, it will take you more effort to achieve stiffer results and have more tendency to collapse. 
Visit thetoastedpinenut.com for complete instructions on how to assemble this stunner.
3. Easy Paleo Dark Chocolate Almond Butter Cups Recipe
Net Carbs: 12g Proteins: 5g Fats: 21g Calories: 249

INGREDIENTS
Chocolate:
5 ounces Paleo dark chocolate
1/3 cup Maple syrup (or sweetener of choice – see options in post above)
1 tablespoon Coconut oil

Filling:
2/3 cup Almond butter (unsweetened)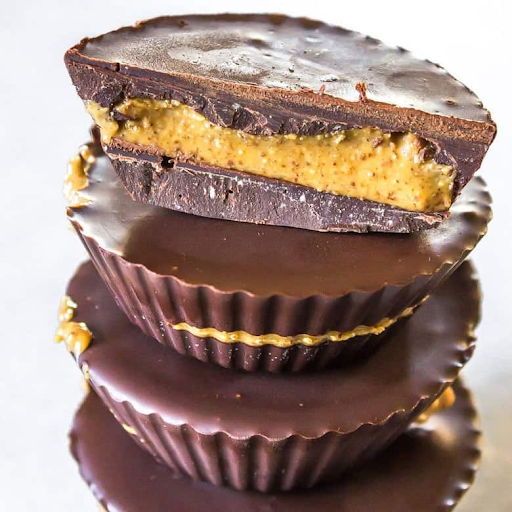 If your family is a fan of peanut butter cups, expect to be the star of Thanksgiving this year with this recipe. Unfortunately, peanut butter is considered to be not paleo-friendly. Legumes are under the list of restricted foods in a paleo diet, thus peanut butter being a no-no for this recipe. Despite this, almond butter is just as good – perhaps even better for this Thanksgiving! Almonds naturally have a sweet flavor to them in addition to being very nutty.
For this recipe, you will be needing chocolate. You do have to take a few notes for this. Most milk chocolates sold in stores are loaded with sugars and other sweeteners, which are not paleo-friendly. Unsweetened, dark chocolate, on the other hand, is paleo-friendly and is the answer to this hurdle. Sweeten your chocolates with the fruity flavors of pure maple syrup.
We will even take the liberty of calling these almond butter cups a healthier alternative. Without the added sugar, these cups of delight have less calories and are higher in antioxidants and healthy fats from dark chocolate and equally significant amounts of proteins from almond butter. 
Get your gears ready by reviewing the whole recipe at wickedspatula.com.
4. Paleo Pumpkin Donut Holes
Net Carbs: 4g Proteins: 2g Fats: 5g Calories: 70kcal

INGREDIENTS
2 cups Almond flour
2 tbsp Coconut flour
2 Eggs
1/2 cup Canned pumpkin puree
1/4 cup Coconut milk
1/4 cup Maple syrup
1/2 tsp Salt
1 tsp Baking soda
1 tsp Pumpkin pie spice
1 tsp Vanilla extract
2 tbsp Coconut oil melted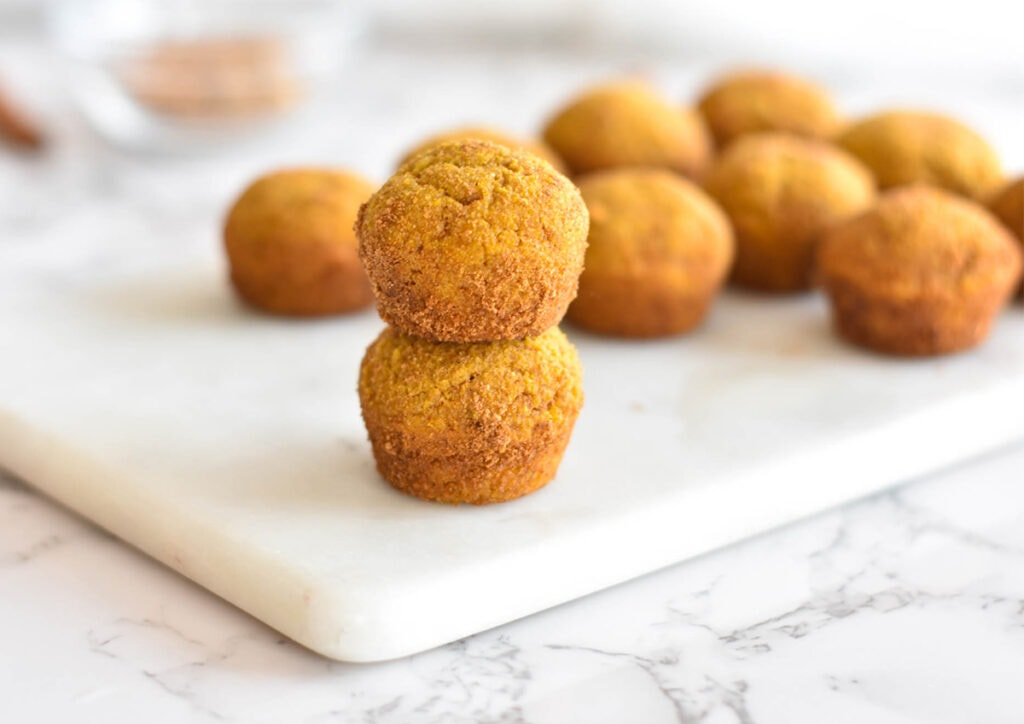 You know Fall is here when you start seeing treats that are either pumpkin or pumpkin spice flavored. Jump in to this by making donut holes with pumpkin goodness! Pumpkin goes well with both savory and sweet dishes, that is why we are quite sure this one will be a hit. These gluten-free treats are made using almond and coconut flours mixed in with pumpkin puree and coconut milk to create moist donut holes.
Aside from being a Fall staple, pumpkins are rich in vitamin A and antioxidants which are great for everyone. It also houses most of the moisture you need to make these treats soft and moist. The recipe also notes that coconut flour is a vital ingredient and it is not recommended to be substituted. This flour has enough moisture holding capacity to keep water in the products and maintain moistness for a long time.
Let everyone enjoy these donut holes and make extra as they do well even when refrigerated. Find out more about this recipe at foodbornewellness.com.
5. Blueberry Cream Pie
Net Carbs: 40g Proteins: 5g Fats: 13g Calories: 290

INGREDIENTS
Crust:
1 cup soft medjool dates pitted
1/4 cup coconut oil
3/4 cup arrowroot flour
1/4 cup coconut flour
1 teaspoon vanilla extract
1/2 teaspoon sea salt
1/4 teaspoon baking soda

Filling:
2 cups full fat canned coconut milk about 1 1/2 can Chaokoh brand
1/4 cup maple syrup
1 teaspoon vanilla extract or vanilla bean to taste
1/4 teaspoon sea salt
5 teaspoons gelatin
1/2 cup coconut shreds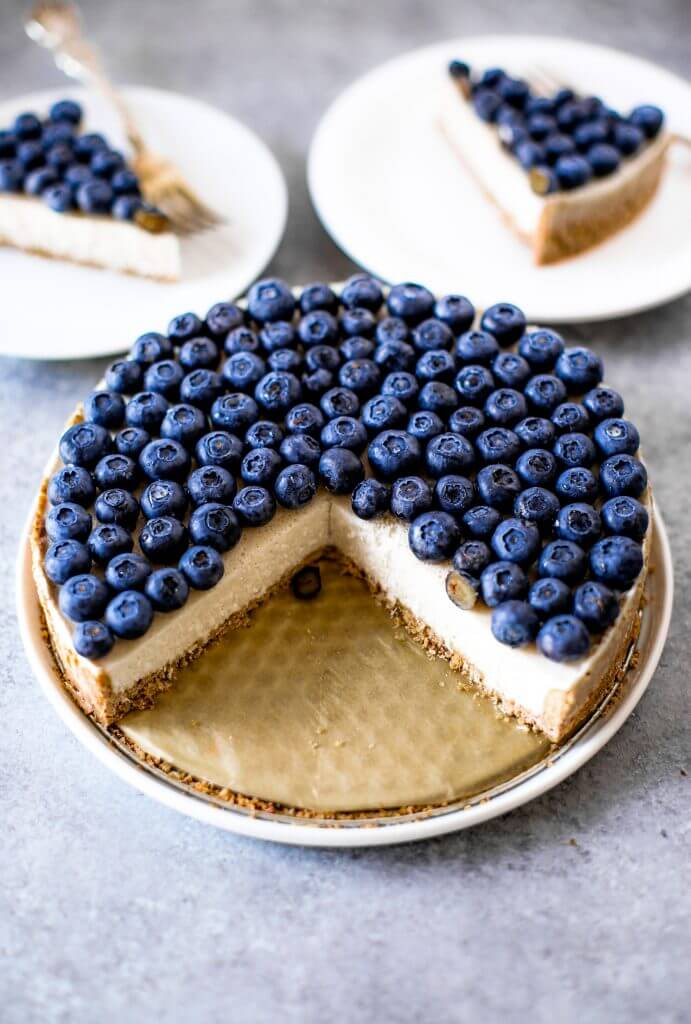 It's not a cheesecake, it is a cream pie. Because cream cheese is a processed dairy product, we must find a way to enjoy a creamy cake that is paleo-friendly. Here is the answer for you. This cream cake uses coconut milk and shreds as a substitute to cream cheese. We know this type of cake is more common in summer, but hey, do not let anyone stop you from bringing it to the Thanksgiving table. The filling calls for gelatin, which is used to solidify no-bake cakes. Although paleo, if you want to make the dish more inclusive, substitute gelatin with agar for a vegetarian version. Gelatin is extracted from animal tissues such as skin and bones, whereas agar is sourced from seaweeds.
Interestingly, this recipe calls for arrowroot flour which is mostly used for its starch content and is a common alternative for cornstarch. Arrowroot flour is known to have more calcium than cornstarch and is gluten-free which are good points if you are looking for a wheat flour substitute. This flour tends to be very powdery when unhydrated well, make sure to follow the steps from paleoglutenfree.com to get the perfect crust for your cream cake.
In addition, this recipe treats blueberries as toppings. If you prefer the fruits to be incorporated inside the cream, you may have to adjust a bit on other liquid ingredients. This recipe works well with any fruit!
6. Gluten Free and Paleo Peach Galette
Net Carbs: 221g Proteins: 53g Fats: 40g Calories: 2217

INGREDIENTS
Filling:
2 large ripe peaches, discard pit, of course, rinsed, dried and thinly sliced
1/2 cup coconut sugar
1/2 teaspoon lemon juice
1/2 teaspoon cinnamon
3 Tablespoons tapioca starch, add an additional Tablespoon if your peaches are very juicy

Crust:
1 1/2 cups blanched almond flour
1/4 cup + 2 Tablespoons coconut flour
2 Tablespoons coconut sugar
pinch salt
1/4 cup very cold butter, chopped into chunks
2 Tablespoons very cold water or almond milk, or milk of choice
1 large egg white, about 2 Tablespoons

Finishing:
1 large egg, beaten
1 Tablespoon milk of choice
2-4 Tablespoons coconut sugar
For the advanced bakers out there who want to show some skills in making a dessert, here is the recipe for you. This recipe will guide you to make a galette which is typically just a pie but without the tin pie mold. It is a French free-form pie which houses various types of filling inside a folded pie crust. According to the notes on this recipe, a galette is also called "Lazy Man's Pie". You do not need to say more, we're sold on that name. This dessert makes an effortlessly beautiful work of art that does not need any special techniques.
More than the usual way of making a galette with wheat flour, the dough for this recipe needs to be folded with the help of a baking paper. Because neither almond nor coconut flour contains gluten, the dough has the tendency to break when improperly folded. Luckily, all you have to do is to smoothen the cracks with your fingers to put it back together. 
Find out the minute steps that make huge differences in the outcome of your galette for Thanksgiving in acleanbake.com.
7. Paleo Lemon Bars
Net Carbs: 12g Proteins: 10g Fats: 21g Calories: 260

INGREDIENTS
For The Crust
2 cups almond flour
2 tbsp coconut oil
1 egg
1 tsp vanilla extract
1 tbsp coconut palm sugar

For The Topping
4 eggs
1 tbsp lemon zest
1/2 cup lemon juice
1/8 cup coconut palm sugar
2 tbsp coconut flour
2 tbsp coconut milk soft*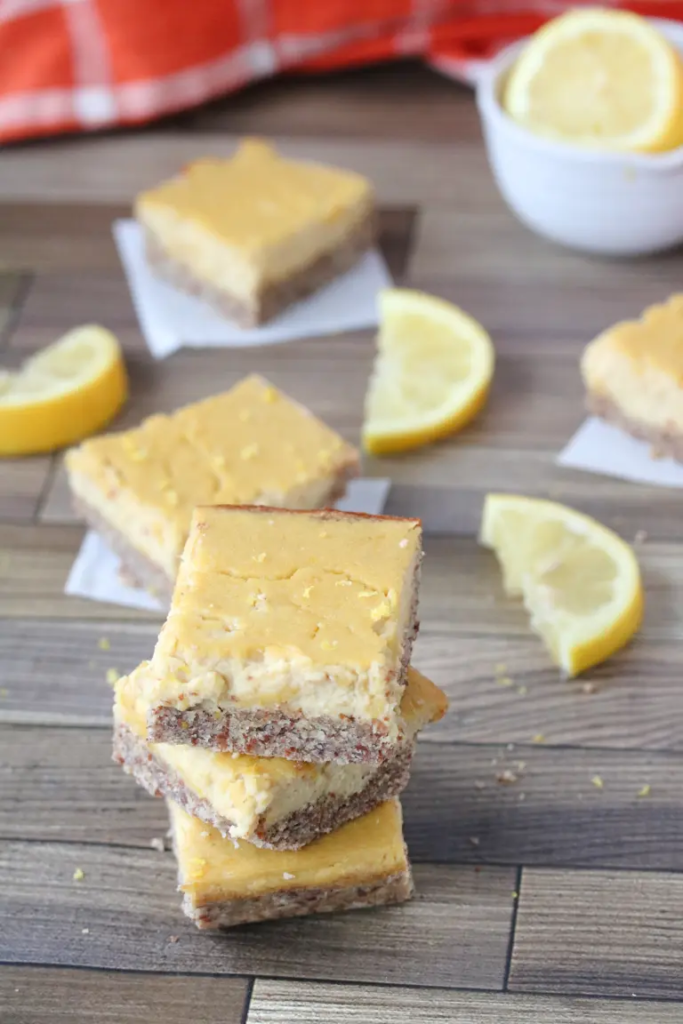 Here is an interesting paleo-friendly spin-off to your favorite lemon squares that will surely brighten everyone's mood even more in front of the Thanksgiving dinner table. These lemon squares are made with almond flour, therefore gluten-free and uses coconut palm sugar. This type of sugar is a good substitute to your regular refined, table sugar which is off limits for a paleo diet. Coconut sugar has the same fatty acids associated with coconut milk that are good for controlling cholesterol levels. It even has inulin, which is a dietary fiber that acts as prebiotics that boost your gut microflora. Coconut sugar contains only about 75% sucrose.
Aside from aesthetics and nutrition, the only difference this recipe has on a regular lemon square is that the base is a bit denser. Although not included in the recipe, whipping the egg whites and creating a foam would help create a fluffier base. This revision would also need a bit of alteration on the baking procedure and may require you to half-bake the base even before adding the custard top. Head to fitasamamabear.com for tips and tricks on how to nail this bright treat.
8. Pumpkin Pie with Pecan Crust and Topping
Net Carbs: 26.3g Proteins: 7.9g Fat: 31.5g Calories: 410

INGREDIENTS
Pecan Pie crust
1 cup pecans
1 cup almond flour/meal
1/2 cup cassava or tapioca flour
1/2 teaspoon cinnamon 
2 teaspoons Sukrin gold or Swerve sugar-sweetener brown (or 2 teaspoons coconut sugar)
1/4 teaspoon salt 
2 heaped tablespoons coconut oil at room temperature or ghee
1 large egg

Pumpkin Pie filling
About 425 g / 15 oz canned pumpkin puree
1/2 cup full-fat coconut milk (use the thickened, creamy part of the coconut milk)
1/4 cup Sukrin Gold or Swerve brown sugar-sweetener (or maple syrup)
3 large eggs
1 teaspoon vanilla extract
2 teaspoons pumpkin pie spice (see notes)
A pinch of salt 

Pecan Pie Topping
1 large egg, lightly beaten 
1 cup chopped pecans (+ a few whole pieces to decorate the top)
1/3 cup maple syrup
1 teaspoon cinnamon powder

To serve
Whipped coconut cream or coconut/dairy-free ice cream.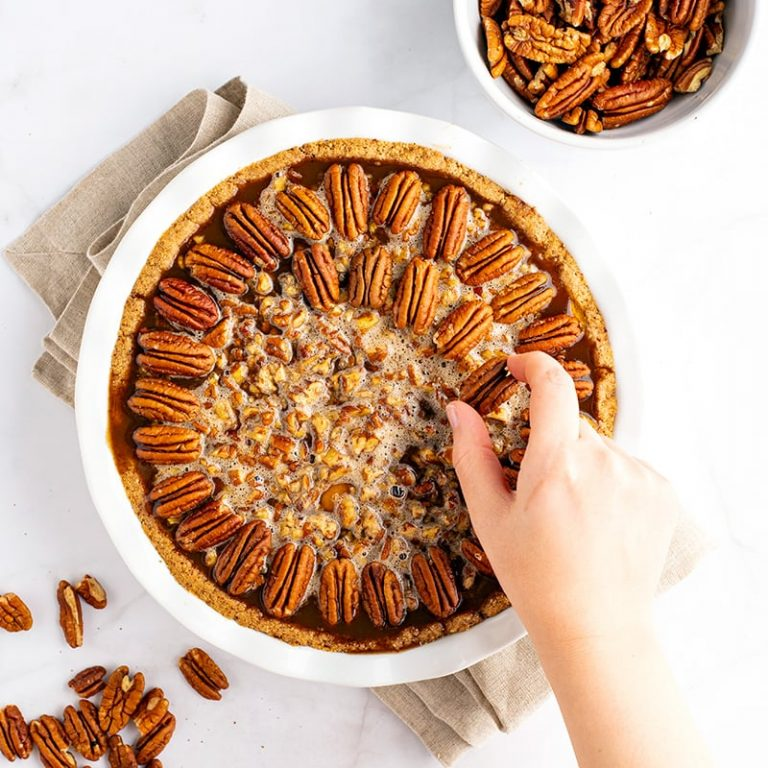 You thought we forgot to put up a recipe for a pumpkin or a pecan pie for dessert? Of course not! Besides turkey, it's one of the main staples when it comes to a Thanksgiving dinner. This recipe is like shooting two birds with one stone; you get a pumpkin and a pecan pie in one! Show off your skills by making a great pecan crust, pumpkin filling, and a pumpkin maple topping. Although, this specific recipe is not entirely paleo-friendly as it indicates using a sugar-sweetener. If you want to fully immerse in being paleo-friendly, opt using other natural sweeteners such as maple syrup or better yet, stevia.
The smooth and slightly savory pumpkin filling of this pie is perfectly complemented by the crunchy and sweet texture and flavor of the pecan topping. The filling is spiced with cinnamon, nutmeg, ginger, cloves, and, optionally, allspice. This pie can be enjoyed as is, or top it off with a dollop of whipped cream – pure indulgence! In addition to being quite paleo-friendly, this pie is also grain-, gluten-, and dairy-free. Bake ahead for a show-stopping dessert this Thanksgiving.
Follow this recipe guide by checking out irenamacri.com.