7 awesome keto main dishes
It's quite hard to control your appetite when you are in front of a Thanksgiving dinner table. There will be a lot of temptations and lots of carbs! This Thanksgiving, try and give everyone the choice of eating keto-friendly food. While you are at it, you can't let the keto diet get a bad name by serving unappetizing foods. We've got you covered! Learn more about how you can turn your favorite Thanksgiving main course into a keto friendly meal.
Doubtful we can find a keto version of your homemade cranberry sauce or the filling for your turkey? The key to making a keto meal is to know which ones work as keto-friendly and to be very creative. As long as your calories are 70-80% from fat, 10-20% from proteins, and 5-10% from carbohydrates of your needed daily intake as suggested by the Harvard School of Public Health, your recipes are right up the keto checklist.
1. Garlic Rosemary Pork Chops
Net carbs: 1g Protein: 39g Fat: 33g
     
INGREDIENTS
Serving: 4
4 pork loin chops
kosher salt
Freshly ground black pepper
1 tbsp. freshly minced rosemary
2 cloves garlic, minced
1/2 c. (1 stick) butter, melted
1 tbsp. extra-virgin olive oil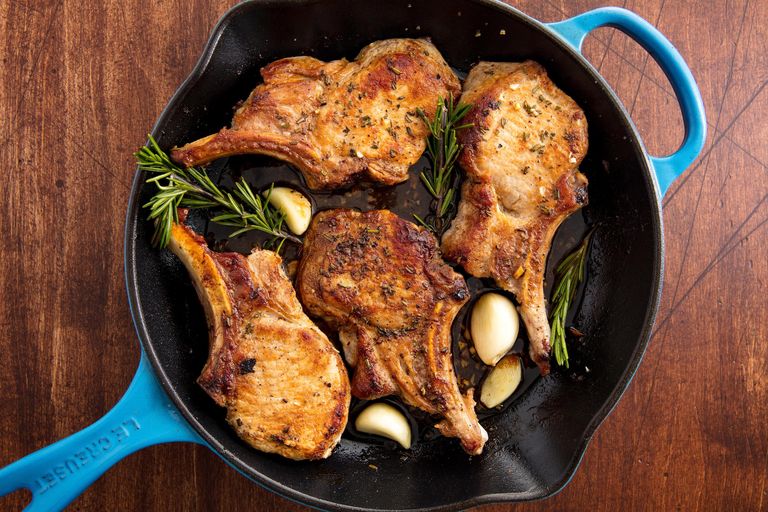 Pork chops may not be the star of a regular Thanksgiving meal, but who says it can't be? This recipe is designed to get that golden crust yet tender and juicy inside of a cop. For pork loin, you want to serve everyone a meat with luminescent white insides while the juices are still dripping. The key to a perfectly seared pork is the right thickness and to properly cook your cut with the right temperature and the right time. To get a golden, crispy crust, the cut must be thick enough to let you cook it for about 2-3 minutes each side. The skillet must also be very hot to cause "case hardening" wherein the outer layer of your meat is cooked first, then the inner portion.
You do not want to serve the family a pork chop with pink on the inside. Make sure to sear your pork chop and get its internal temperature to 145-160°F. For this recipe, remember that you will be using loin chops. This means that there is very little fat on it. Do not overcook your meat or it will be very tough to bite on. Let your cooked meat cool down on a rack before assembling to continue the cooking process gradually. With these tips, be ready to eat on keto-friendly pork chops. Find more about this recipe on delish.com.
2.  Low-Carb Easy Cheesy Zucchini Bake
Net Carbs: 6g Proteins: 14g Fat: 13g

INGREDIENTS
Serving: 6
2 medium zucchini, cut in slices or half-moon slices
2 medium yellow squash, cut in slices or half-moon slices
4 T chopped fresh basil (more or less, depending on how much you like the flavor of basil)
2 T thinly sliced green onion
1/2 tsp. dried thyme
3/4 tsp. garlic powder
1 cup grated mozzarella cheese (see notes)
1/2 cup coarsely grated Parmesan, plus a little more for the top if desired
salt and fresh ground black pepper to taste
It's a good thing cheeses are your bestfriend when it comes to keto diets. Enjoy the stringy goodness of mozzarella with the bright and zesty flavors of zucchini and squash. Zucchini and squash are two very "bright" vegetables as they both contain a lot of β-carotene and vitamin Similar with Vitamin A, β-carotene is a potent antioxidant that helps in fighting free radicals in your body and functions by protecting the eyes from dryness and damage.
Vegetables are also a great component of a keto diet. Although they present less fat, some vegetables offer a lot of nutrients without the added carbohydrates. Protect and support your body's nourishment while going through the ketogenic process. For a more flavorful and vibrant dish, blanch the basil leaves in hot water for at least 30 seconds. This process helps release the aromatic compounds of basil more readily and will incorporate it into the dish. For more information on this recipe, head to kalynsktichen.com.
3. Low Carb Pot Roast Slow Cooker
Net Carbs: 2g Proteins: 29g Fat: 19g

INGREDIENTS
Serving: 12
4 lb Chuck roast
4 tsp Sea salt
1 tsp Black pepper
2 tbsp Avocado oil
1 1/2 cup Radishes cut into quarters; about 1 bunch
1 1/2 cup Carrots sliced on the bias, 3/4″ thick; about 3 carrots
1/2 large Onion cut into petals
3 sprigs Fresh rosemary
4-5 sprigs Fresh thyme
2 cups Beef broth (or bone broth for more flavor and tenderness)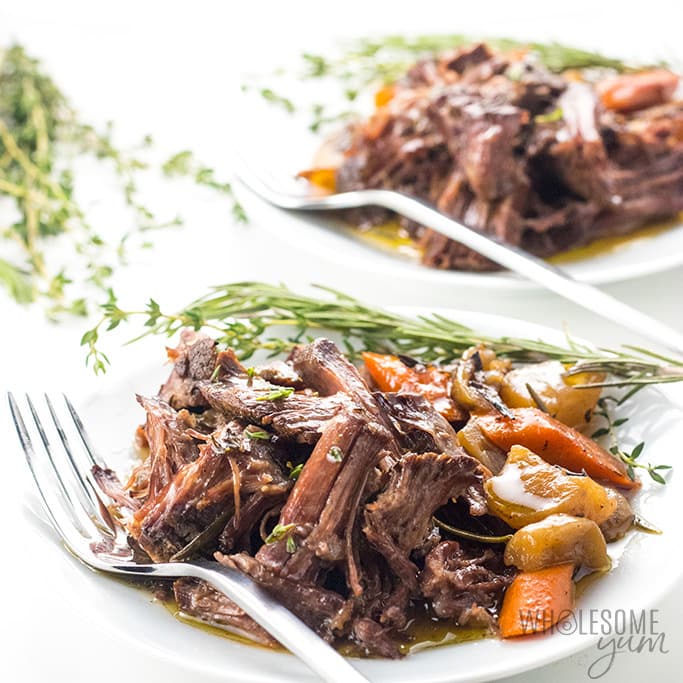 Here's a recipe that'll take more time but definitely become worth all the trouble. Plan way ahead of time if you want this meal to make it to the table. With this recipe, patience and timing is key. Prepare at least 10 – 11 hours of preparation and cooking time to get the best results. Do not worry though, at least 95% of that time allotment will be spent on waiting while you let the slow cooker do its job.
In addition to timing, a good roast needs the right type of meat. When choosing your beef cuts for a roast, consider the amount of collagen and fat in the meat you will be selecting. Collagen is the connective tissue which holds muscle fiber together. Collectively, it contributes to the toughness of your meat. Why would we want a tough meat, you ask? The higher the collagen and fat content, the juicier the meat will be when subjected to slow cooking. Without these, the meat will easily dry out for the span of time it will be spending in a slow cooker. For that job, your best bet is a chuck roast cut.
Get more tips and alternative ingredients for this recipe from wholesomeyum.com. Check their sides for this dish too!
4. Keto Chinese Duck with Orange Sauce
Net Carbs: 9g Proteins: 52g Fat: 11g

INGREDIENTS
Serving: 2
2 duck breasts
1 teaspoon salt
1/2 teaspoon pepper
1.5 teaspoons chinese 5 spice
Sauce
1 cup chicken stock
2 tablespoons xylitol or your preferred sweetener
4 tablespoons tamari
1/2 teaspoon Chinese 5 spice
1/2 teaspoon cinnamon
2 teaspoons apple cider vinegar
peel of one orange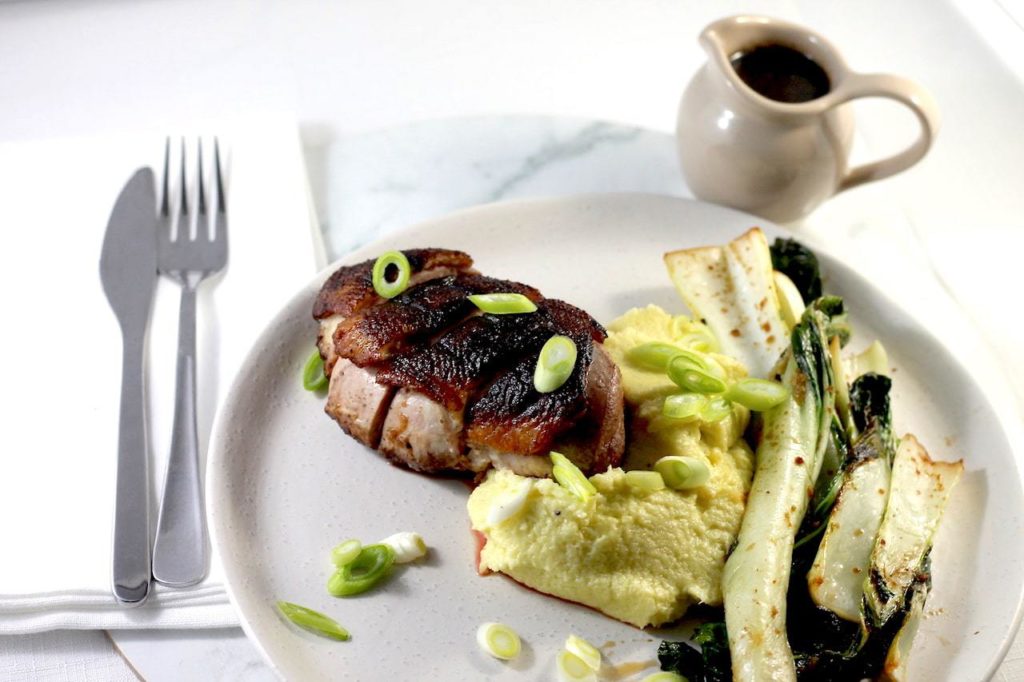 Although a bit uncommonly served in a Thanksgiving table, turkeys can't always have the limelight. Time for some new fowl served up the table. Enjoy a crispy-skinned duck breast drizzled with sweet and tangy orange sauce. Cooking duck meat is almost as easy as cooking chicken plus a few easy steps. Duck meat needs to be rendered well on low heat to get that crispy skin texture without overcooking the meat itself. Score the duck breast to get that internal temperature of 165°F.
To enjoy this recipe's potential to the fullest, your orange sauce must be on point. Normally, orange essential oil is extracted by covering grated orange rind with sugar, but we're on a keto diet! For this recipe, Aussie Keto Queen suggests to include the orange peels into the cooking process and twist the peels tightly to help release the oils. For amateur cooks, this may be quite hard. Orange peels are firmly attached to a white tissue lining called pith which contributes a bitter taste. This is what we usually avoid including when grating orange peels. For easier and bitter-free possibilities, grate the orange peel and place them in a tea bag and place it alongside the other ingredients for the sauce. Voila! Less pith should be incorporated into the sauce. Visit aussieketoqueen.com for more notes on this recipe.
5. Mom's Low Carb Meatballs Recipe – Italian Style
Net Carbs: 1g Proteins: 19g Fat: 22g

INGREDIENTS
Serving: 4
1/2 pound ground beef chuck, 85 % lean
1/2 pound ground pork (or turkey or veal)
1/4 cup Parmesan cheese, grated
1/4 cup heavy cream
1 large egg, beaten
2 tbsp minced fresh parsley
1 tbsp finely grated onion (it will be mush)
1 clove garlic, grated (small – medium in size)
1/2 tsp salt
1/4 tsp pepper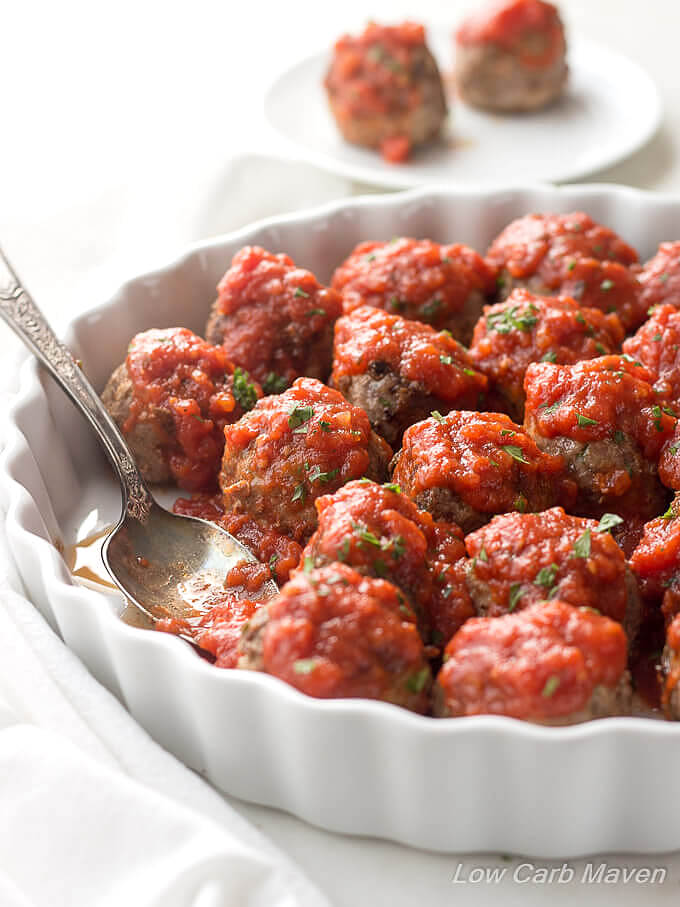 If you are trying to make a statement using a dish for this Thanksgiving, then an authentic Italian-style meatballs recipe (keto version) is the way to go. This recipe is based on a hand-me-down recipe from a lineage of Italian family. With a few alterations, the original recipe was made to fit a ketogenic diet for everyone. The meatballs are a combination of lean, ground pork and beef mixed in with heavy cream for the additional tenderness. The heavy cream acts as the replacement for the traditionally added breadcrumbs used for the same reason to make it keto-friendly.
If you are not on a tight budget, don't just splurge on the quality of meat, but also add in veal! This recipe even has the right trick for you to get evenly shaped meatballs. While it is true that pan frying results in a more flavorful and distinct taste of meatballs due to the browning reactions, the meatballs have the tendency to crumble when being fried. To troubleshoot this, line your meatballs in a baking pan with a wax sheet. Bake the balls until they hold their shape and continue cooking them in a frying pan.
For this recipe, choose any keto-friendly marinara sauce of your liking or head to lowcarbmaven.com for their personal recipe.
6. Garlic Butter Salmon and Asparagus
Net Carbs: 7g Proteins: 41g Fat: 44g

INGREDIENTS
Serving: 4
1.5 pounds salmon, cut into 4 fillets
1 pound asparagus, trimmed
½ cup butter, melted
3 cloves garlic, minced
1 tablespoon minced parsley
1 teaspoon onion powder
1 teaspoon salt
½ teaspoon cracked pepper
4 slices lemon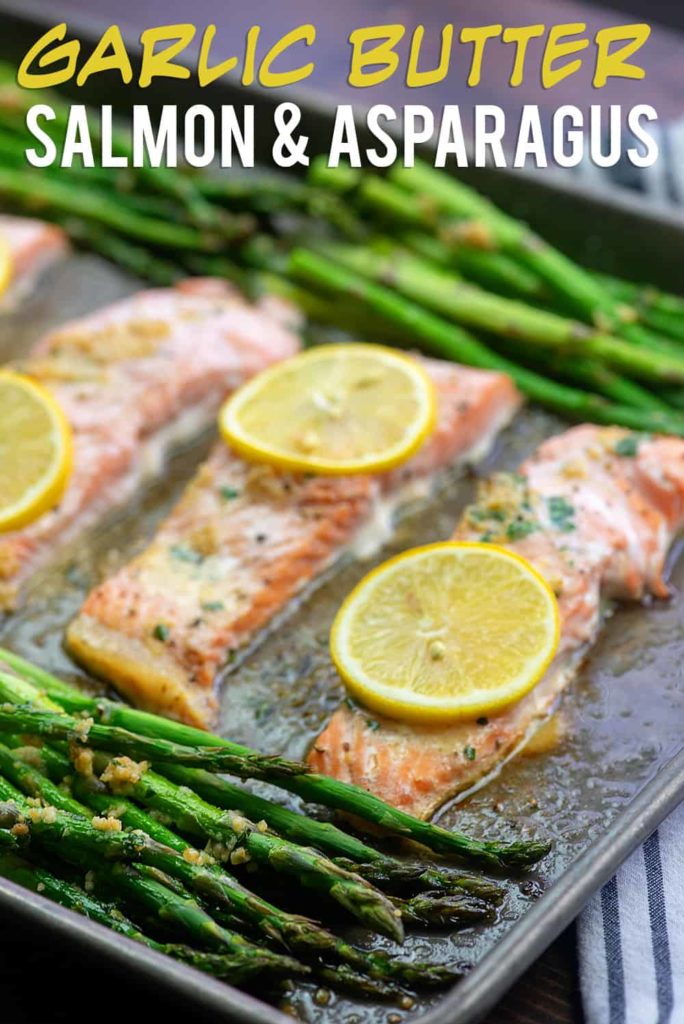 Checkout the fats and proteins in this recipe. For this Thanksgiving, encourage your family to try a ketogenic diet by showing them how versatile and exciting their meals can be. This recipe is for a flaky, juicy, and zesty salmon that only needs a single pan for cooking. What;s good about this recipe is that salmon is practically loaded with the proteins you need to sustain your daily needs. Salmon is even known to have very high amounts of omega-3 fatty acids that's best for your heart.
If you're not a fan of fish dishes, then maybe this one can make you convert. The lemon juice gives the recipe a hint of zest to lighten the rather heavily flavored garlic butter sauce. To fully enjoy this recipe, make sure to monitor your salmon while it's baking at 450°F. Your protein has to be flaky yet still oozing with juices. At approximately 12 to 15 minus, you have a nicely seared baked salmon for the Thanksgiving table. 
We're confident to suggest that this recipe is a knockout. Head over to thatlowcarblife.com to see how individuals who have tried got amazed how quick and delicious the outcome is.
7. Low Carb Paleo Cauliflower Stuffing
Net Carbs: 7g Proteins: 2g Fat: 7g

INGREDIENTS
Serving: 10 (at ½ cup each)
1 large head Cauliflower (cut into small florets)
1 large Onion (sliced)
1/4 cup Celery (chopped thinly)
2 cloves Garlic (minced)
1/4 cup Olive oil (can also use butter or ghee)
1/2 tsp Poultry seasoning
1/2 tsp Dried thyme
1/2 tsp Ground sage
1 tsp Sea salt (or less if your poultry seasoning contains salt)
1/4 tsp Black pepper
2 tbsp Fresh parsley (chopped)
1/4 cup Pecans (chopped)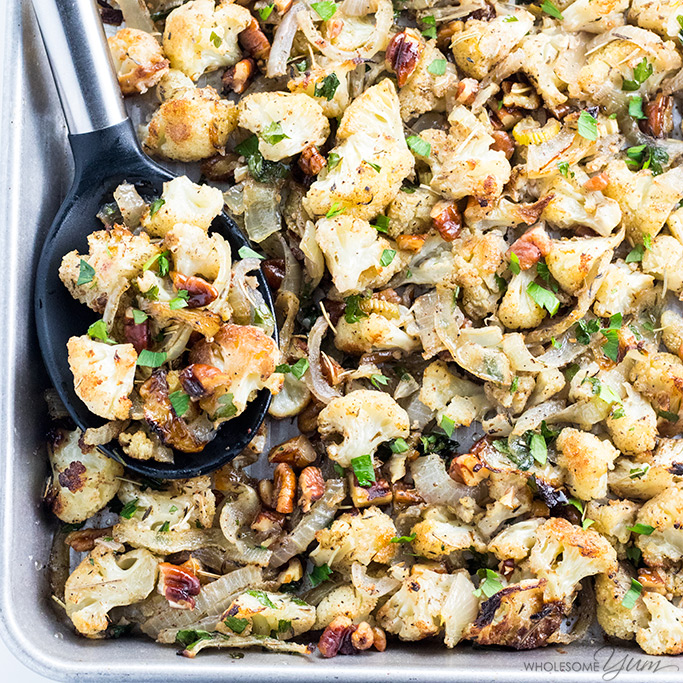 Is it even Thanksgiving without a roasted turkey with stuffing on the side? Here we have a keto-friendly version of what we usually serve for Thanksgiving. There's been a lot of discussion whether keto-friendly stuffing could be called "stuffing" if they can be put inside the turkey prior to roasting. Now, the reason for this is keto versions of stuffings are made without bread (unless it's keto-friendly bread). Mostly made with cauliflower florets, this recipe is separately baked from the turkey. Stuffing it inside after baking it will only make the whole side dish soft. Whether it's a dressing or a stuffing, it's keto and it's a family must-have.
For such an easy go-to side, this recipe can give you more time to prepare for the turkey itself. Add in a bit of texture to the cauliflower florets by drizzling the ensemble with chopped pecans or your favorite nuts. The key here is to make sure that your vegetables are no longer wet when they get lined in the pan. This will help the oven cook the vegetables to a textured state.
Checkout wholesomeyum.com for more information and alternative ingredients to this recipe.
Bonus. Low Carb Cranberry Sauce
Net Carbs: 6g Proteins: 0g Fat: 0g

INGREDIENTS
Serving: 6
12-ounce package whole cranberries 
1 cup powdered erythritol sweetener
1 cup water
1 tablespoon fresh orange zest
1/4 teaspoon table salt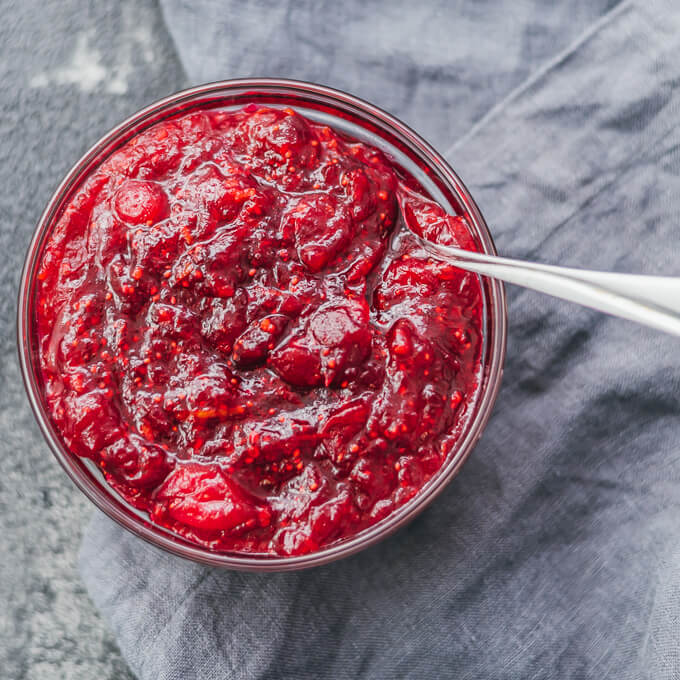 You might have thought for a second that you'd have to say goodbye to your Thanksgiving cranberry sauce. Keto life was not meant to be boring! That's why savorytooth.com. Gave us this recipe to enjoy. Instead of your regular table sugar, this recipe uses a sugar substitute, erythritol. This sugar substitute is known to be 70% sweeter than sugar and is considered to be a sugar alcohol. Nothing fancy there, this is only because of its chemical configuration. Erythritol is highly abundant in nature such as in fruits and mushrooms and is usually extracted by using corn as substrate.
If you have your reservations on this, you can have a lot of other alternative sweeteners such as Stevia which is promoted as a natural sweetener from the plant Stevia rebaudiana. Whichever sweetener you choose, take note that it should be carb free or at least low in carbohydrates.